May 13, 2022
The Google Chromecast is an awesome device that can be used to stream videos and other media from your computer, tablet, or phone to your television. With the use of Google Chromecast, you can easily mirror content from any of your smart devices on your television screen. You can stream IPTV using chromecast.
It's a known fact that people love to watch live TV shows and sports events on their smartphones, tablets, or laptops. They want to catch up with the latest news and gossip about their favorite celebrities, or simply enjoy the most viewed TV series. Many users would prefer to watch something new on their devices rather than sit in front of a big screen at home. You can stream IPTV using chromecast.
However, setting up an IPTV device is not a simple task for most of them. In this article, we will look into an easy way to set up IPTV on Google Chromecast.
How Does Chromecast Operate?
The Chromecast is small, but it can do quite a bit. It uses your smartphone or computer as the remote and allows you to stream content directly to your HDTV/smart tv in up to 1080p high definition just like a google TV.
The Chromecast can be used on any high-definition TV or android tv box with an HDMI input, and it works with Macs or PCs as well as Android or iOS smartphones.
The Google Chromecast can work in one of two ways. You can either use the Google Cast function to mirror the content being played on your phone to your TV set, or you can use your phone to tell the Chromecast dongle to retrieve the same content in better quality.
The "mirror" feature in Chromecast allows you to mirror what is on your device's display onto your chromecast connected TV. For example, if you choose to mirror the cast from your phone, your TV will display the video content or website you are browsing in the same way you are viewing it from your phone. You can then browse the internet on your television set.
But if you want to view content at a higher quality, mirroring won't always be the best option. If you own a Google Chromecast Ultra, you can watch content in 4K quality. If you use your phone, you won't have that option.
The Chromecast device comes with a number of apps, including YouTube, iPlayer, and Sky News. To use it, you simply have to download the Google Home app on your Android or iOS phone.
Once you have done that, you can cast content from any of these apps (or others) directly to your TV using Chromecast. Simply tap the "cast" icon.
What is IPTV?
IPTV is the new way of watching videos on demand. IPTV is an internet protocol television. It is fast becoming a very popular and exciting way to watch TV and films. An IPTV player can be set up on any device such as a computer, mac, mobile phone, tablet, or even a games console.
Though many internet service provider offers IPTV box, IPTV app, and fire tv stick; they are not the best IPTV service. IPTV providers give you a lot more options for what you want to watch. IPTV provider offers IPTV subscription to ensure reliable IPTV service.
But there are unverified IPTV services who are the best IPTV providers as well. So, the best IPTV service provider is someone who provides trusted IPTV streaming services with affordable IPTV subscriptions. Leading IPTV services offer reliable IPTV services with live tv streaming facility and a good number of IPTV channels.
An electronic program guide is a must for legal IPTV providers. However a number of unverified IPTV service are available at popular app stores. So, you have to search for the best IPTV provider who can provide your favorite IPTV service in cable television formats.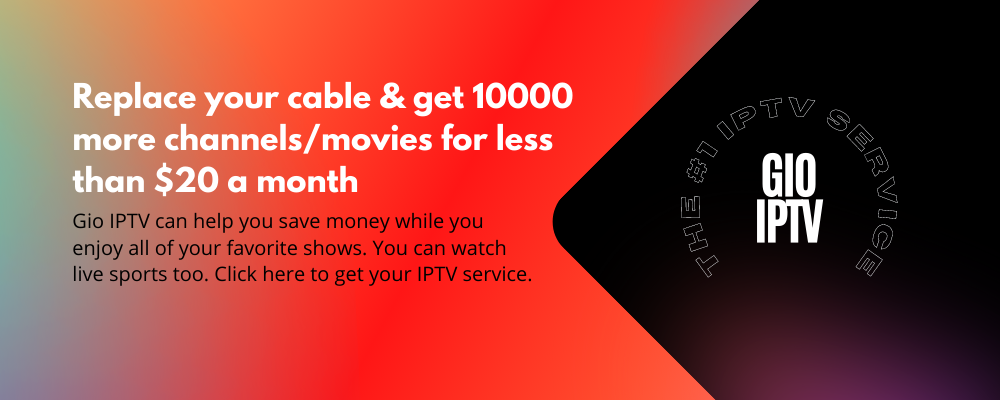 The Best IPTV Players for Chromecast
IPTV apps are kind of like Kodi in that they are empty shells that need user input to stream content. You have the responsibility of adding channels, playlists, and other sources. However, some IPTV players are really good and some of them have free versions as well.
Best IPTV service providers offer best IPTV services by providing premium channels. At present most IPTV services provide hd quality experience. They also support google play store, smart tvs and android devices.
IPTV Smarters Pro (both free and paid)
TiviMate (Free and Premium)
IPTV for the lazy (free)
GSE Smart IPTV (free and premium)
OTT Navigator (free and premium)
IPTV Perfect Player
How Do You Cast IPTV to a Chromecast for Live TV Channels?
Casting or streming IPTV on Chromecast isn't a tough task. However, variations of the device could cause a bit of a problem while casting. Here we will discuss how to cast IPTV on Chromecast by using your Android or iOS device and by using your laptop or desktop.
For mobile devices, we recommend the GSE Smart IPTV app, and for desktop and laptop computers, we recommend the VLC player. Please download and install these on your desired device.
Watch IPTV Using IOS and Android
Before casting, make sure your android device and Chromecast device are on the same WiFi network.
Plugin your Chromecast device into your TV's HDMI port.
Click the + icon on the GSE Smart IPTV Player app home screen and choose either Add M3U URL or Add JSON URL. If you are unsure, consult your provider.
Create a playlist name and configure the provided login details to get your IPTV.
Now you should see the TV channels or on-demand content. Click on the "Cast" button at the top right.
Don't forget to choose your Chromecast device.
Chromecast IPTV Apps Using a Laptop or Desktop
You can use VLC media player to stream IPTV content on your PC. Ensure that the PC and Chromecast are connected to the same Wi-Fi network.
Launch the Chrome browser on your computer or laptop.
Click on the three vertical dot icons and click on "Cast."
Now click on the drop-down icon next to the sources tab and choose Cast Desktop.
When you choose your Chromecast device, the PC screen will be mirrored on the TV.
Now, open the VLC media player on your PC and select Media at the top. From there, open Network Stream.
Just click the Network tab and type your IPTV link in the network URL section.
Wait for VLC to load and then select and play the title you want. It will definitely mirror the TV screen.
There are a number of alternative IPTV players. You can also install and use the IPTV players that are most convenient for you. If the chosen IPTV player lacks built-in cast support, you need to mirror your smartphone screen on Chromecast TV before streaming IPTV content.
Other Streaming Services That Are Compatible With Chromecast
It is well known that media streaming devices like Chromecast and Roku have become extremely popular in the last few years. But did you know that there are other streaming services compatible with Chromecast?
Here is a list of some popular streaming services that are compatible with Chromecast:
Netflix
Amazon Prime
Crackle
Plex
Crunchyroll
HBO Now
Hulu
YouTube
Spotify
Twitch TV
CBS Sports
NBA
Soundcloud
Red Bull TV
Ted
Dailymotion
Pokemon TV
Tubi TV
PBS Kids
Sirius XM
Disney Plus
Movies on Google Play
CBS News
Takeaway
If you are looking for a way to bring your TV up to the 21st century, the Chromecast should be near the top of your list. It's affordable and extremely easy to use, making it an excellent option for anyone who wants to enjoy their favorite movies and shows on a big screen but doesn't want to spend hundreds of dollars.
Leading IPTV service providers make IPTV services better. We can watch live tv channels, apple tv, hd channels, international channels, english tv channels, sports channels, adult channels, and many more. There are a number of IPTV service provider who offers free IPTV services as well.
Thanks for reading this article. I hope you enjoyed the Chromecast setup and cast.
Search
Recent Posts
Categories