May 13, 2022
IPTV has made our life a lot more colorful with all the different live TV channels. And with a service like Amazon Firestick, the amount of content consumed is limitless. But the IPTV programs are best enjoyed by a proper IPTV player. TiviMate for Android is our best pick for this purpose. Because this IPTV player has some tricks under its sleeves.
Since televisions were first built to be sold at home in the 50s, television has become embedded not only in what we watch at home. The film industry rose up and became one of the largest consumer markets throughout the 70s and 80s. Now, as streaming sites grow with more new technologies from virtual reality to mobile viewing, we're able to consume a range of different types of content on any device anywhere.
In this blog, we are going to show you how to install TiviMate firestick in your Amazon Firestick. We'll also show the installation process in Android devices like Android TV Box.
What is TiviMate IPTV Player?
In simple words, the TiviMate is an IPTV player. You can play IPTV programs through this software. It supports M3U URLs and Xtreme Codes. To clear your confusion, TiviMate is not an IPTV service provider. You can't watch IPTV only with the TiviMate. You'll need an IPTV service provider to whom you've subscribed. Then you can watch IPTV with TiviMate.
TiviMate IPTV is a new, state of the art technology which allows users to watch high quality live and on-demand television and listen to thousands of radio stations. The software is 100% legal and safe in use. It is the best alternative to cable and satellite. TiviMate IPTV enables users to watch both live television and on-demand videos- Netflix style.
And make sure that your IPTV service provides you with their M3U URL or M3U files to use TiviMate. Because the TiviMate for Fire TV only supports M3U URLs.
TiviMate IPTV player is only available on Android platforms. If you are a Linux or macOS user, you can't use TiviMate to watch IPTV. TiviMate on Firestick is a very popular IPTV player among its users who wants to pick and choose their entertainment and not pay premium prices. From live TV channels to on demand videos, IPTV is getting popular now. Because it comes with a free version and a premium version. And the free version alone provides a lot of services that are more than enough for a user.
But we always recommend getting the TiviMate premium apk for a fully-fledged experience.
According to the TiviMate website, the premium subscription provides you with these services:
The access to the Scheduled Recording.
Supports multiple playlists access.
Parental Control Functions.
Ability to change the appearance of your playlists.
Gives you the ability to change background colors and fonts.
Gives you a reminder to automatically play channels.
How to Install TiviMate IPTV Player for Android
TiviMate IPTV player is mainly built for Android platforms. Basically, you can run TiviMate on any Android device. From your Android phone to Android tablet and Android TV Box, you can use TiviMate to watch live tv channels as well as on demand videos. In short you can enjoy all IPTV content in your pocket screen. Let us show you how to download the TiviMate companion on android devices.
Go to the apps page from your Android device like Android phone or Android TV Box.
Open Google Play Store.
Search for TiviMate from the search option.
You'll find the exact application. Install the TiviMate app on your device.
After installing you can use the app from your device. But you'll have to create a playlist with the M3U URLs from your service provider. We'll discuss how to use TiviMate later in this blog. Stay with us.
How to Install TiviMate IPTV Player for Amazon Firestick
TiviMate gives amazing usability when it comes to watching both local and foreign live tv channels and on-demand content. But TiviMate apk is not found in the built-in Amazon store of Firestick. That's why we need to sideload this apk on Fire TV. Sideloading on Firestick is an easy process. You just need to follow some specific steps. We can easily sideload TiviMate on Amazon Firestick by following these steps:
Step 1: Turn on Apps from Unknown Sources.
Step 2: Install the Downloader app on Firestick.
Step 3: Install TiviMate on Firestick.
Let's have a detailed overview of these steps.
Step 1: Turn on Apps from Unknown Sources
To install the TiviMate companion apk for Firestick we need to enable an option. It is the permission to install apps outside the Amazon store. By default, the permission is turned off. To turn on the permission:
Use your firestick remote and go to the homepage of your Firestick.

Then go to the "Settings" page with your remote.
Hover over "My Fire TV" and click select with your remote.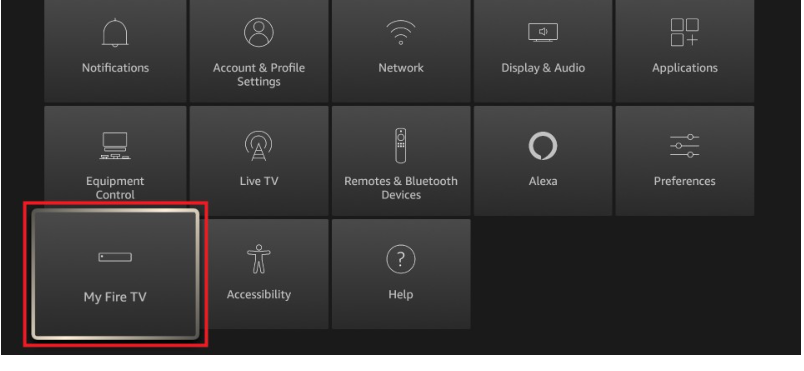 Highlight "Developer Options" and enter.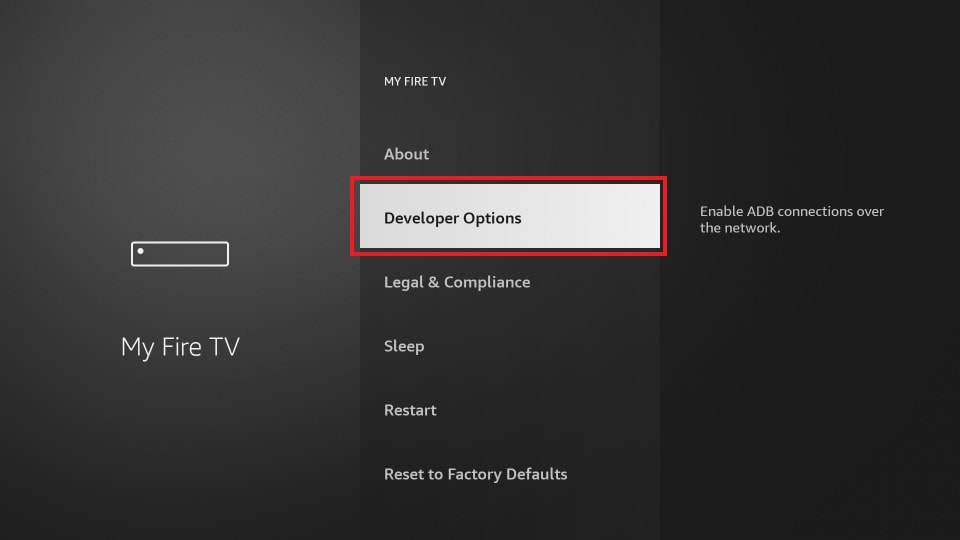 Select "Apps from Unknown Sources" and click.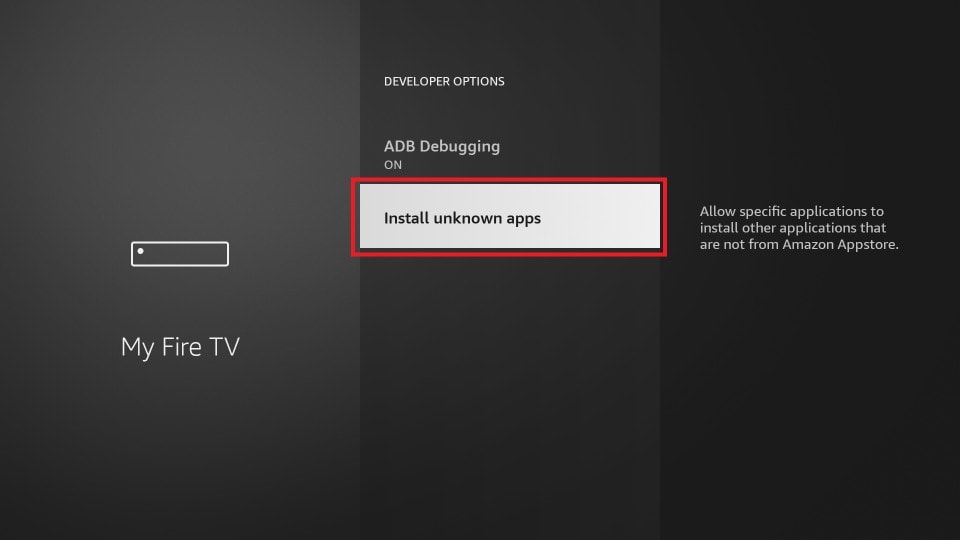 From the next page highlight "Turn On" and select.
Now applications from outside sources can be installed on your Fire TV.
Step 2: Install the Downloader app on Firestick
Now, we'll install the Downloader app for Firestick. Downloader app will let you install TiviMate IPTV Player on Amazon Firestick. To install the Downloader app:
Turn on your Fire TV and navigate to the search option with your Fire remote.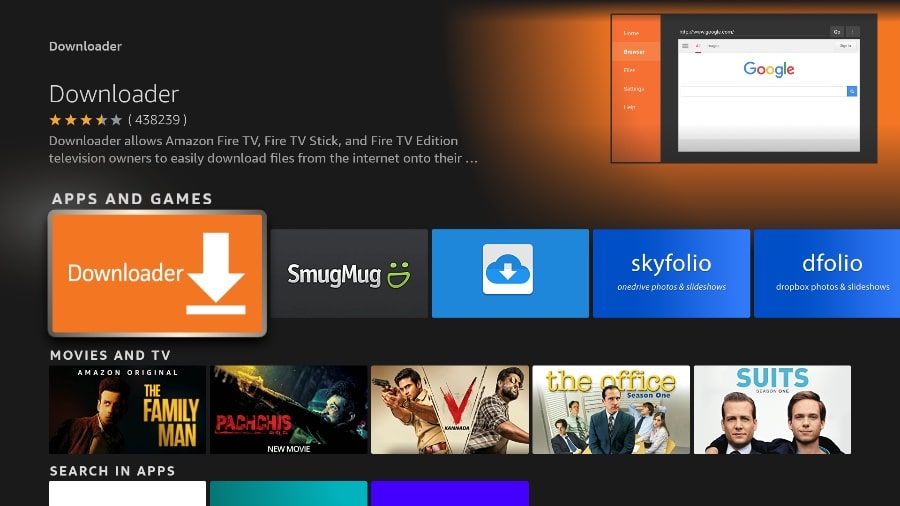 Type in Downloader on the search box and click search.
From the next page select the Downloader app and click on it.
Select the "Download" or "Get" button from the Downloader app screen and click.
After a few times, the Downloader app will be installed on your device.
Open the app.
Click "Allow" when it seeks permission to access the storage. We'll need it later.
Downloader app is installed on your Fire TV. You can find this app in the Your Apps & Games section.
Step 3: Install TiviMate IPTV Player on Firestick
We'll now download the TiviMate app on the Firestick. We'll use the Downloader app to download our TiviMate IPTV companion.
If you have done everything mentioned above, you are 75% done installing TiviMate.
Just follow these next steps.
Go to your APPS & GAMES page.
Select the Downloader app and Open it. Click OK on the Quick Start Guide.
You'll see a left panel on the app screen. Make sure you are on the Home page.
You'll see a text box named Enter a URL or Search Item.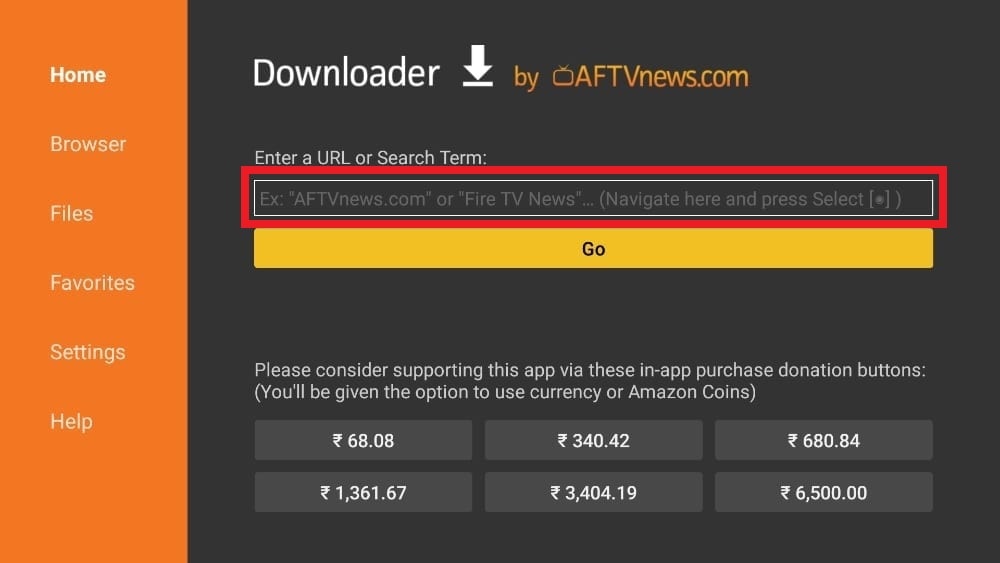 Type in this address (https://m.apkpure.com/tivimate-iptv-player/ar.tvplayer.tv) in the box. And click Go.
The download will start automatically.
After downloading, there will be an installation screen. Press INSTALL. And the TiviMate app will be installed on your device.
Click Open or Done.
We suggest deleting the installation file after downloading. This will save some space on your Firestick. You'll get a Delete option if you click Done.
Now you can use TiviMate on your Amazon Fire TV. Just go to the APPS & GAMES page. You'll find the TiviMate app on the page. Open it.
How to Use TiviMate on Firestick to watch IPTV
After you have installed TiviMate IPTV Player, you'll have to set up your M3U URL to access your IPTV account.
Usually, you'll get two URLs from your IPTV provider. One is your Playlist URL and another one is your TV Guide URL.
Again you can log in to IPTV with Xtreme Codes. In that case, you'll have a username and password from your IPTV providers.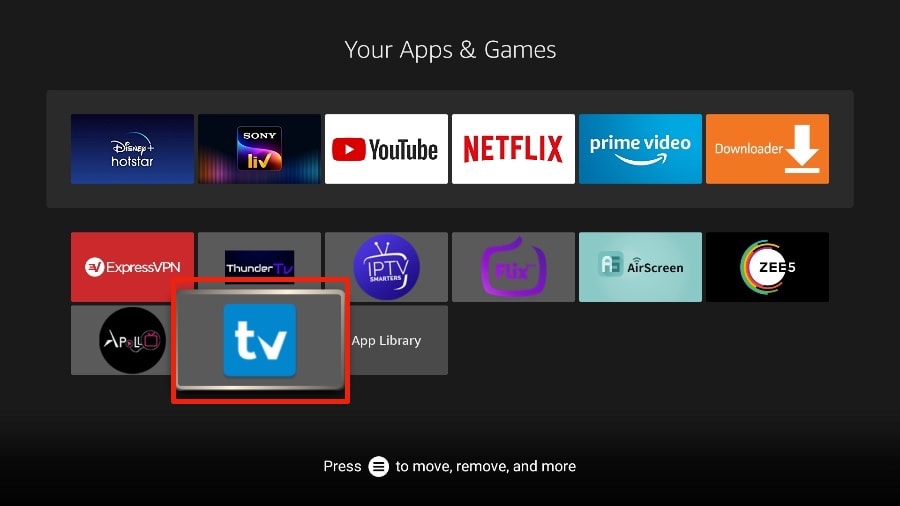 Let's set up those URLs into your TiviMate.
Open TiviMate from your Fire TV app list.
Click on "Add playlist."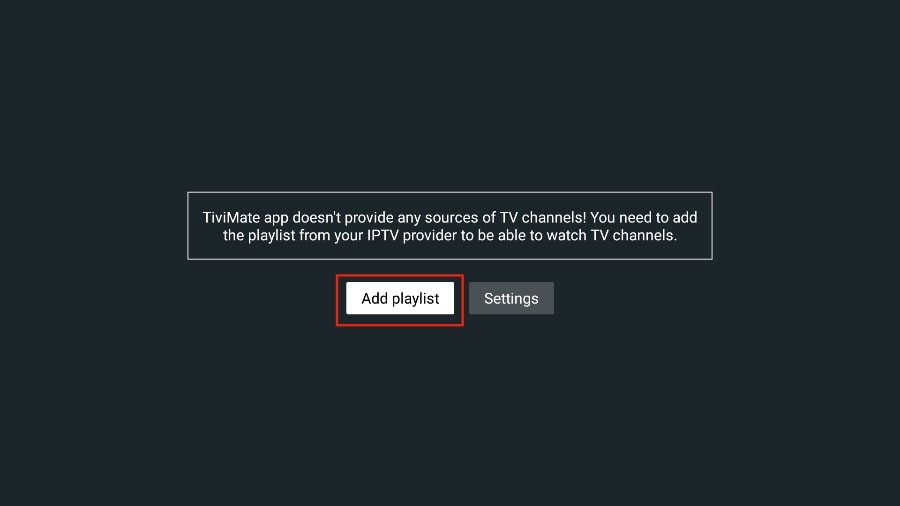 You'll see three options named M3U playlist, Xtreme Codes, and Stalker Portal. Click on "M3U playlist" to add your M3U URL from the provider. Or click on "Xtreme Codes" to add the server URL as well as username and password.
After you enter the M3U URL click "Next."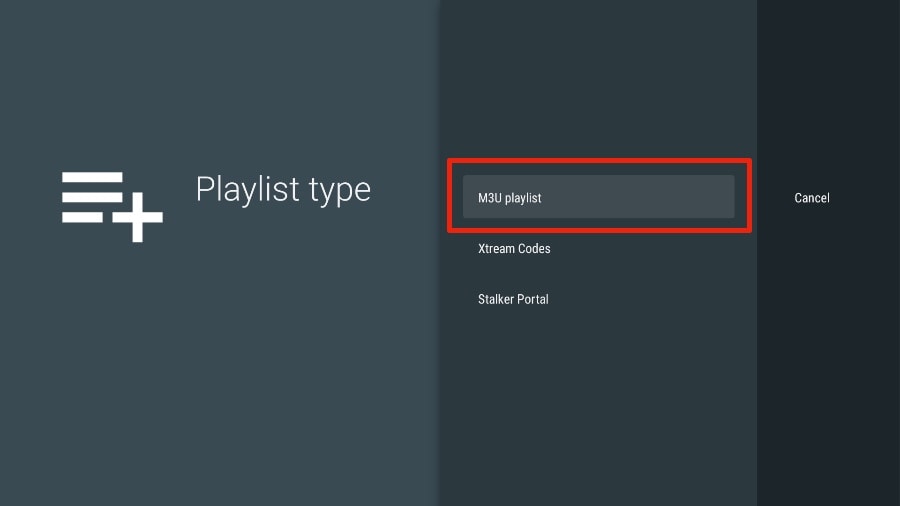 Then wait for channels to process.
You'll see a message with the Playlist is processed. Then click "Next."
After the process is done you'll get a page to enter your TV guide URL. Enter the URL with your Firestick remote and click "Next."
After the processing is finished, click "Done."
The TV guide will add all the channels to your TiviMate. You'll see a list of all the channels available. Now you can select any channel and enjoy IPTV directly from your Firestick TiviMate.
The premium TiviMate IPTV player can give you the ultimate usage of the app. But the free version is enough to enjoy almost all the features of the app. By using our steps you can install the TiviMate firestick on your Amazon Fire TV. Also on your Android TV Box.
TiviMate provides you with a very fast transition among the channel lists. Moreover, the streaming is also seamless. There is almost no lag in TiviMate when it comes to Live Sports Channels. No wonder TiviMate is famous among IPTV content consumers.
Recommend IPTV provider for Tivimate iptv player users:
Gio IPTV is the best IPTV provider with anti-freeze technology and impeccable customer service. You can't go wrong here. Why settle for anything less than the best? Gio IPTV is the only provider that believes in quality service over everything. It makes sense to choose them whether you're looking for an IPTV provider that prioritizes stability or one that offers the best options in entertainment.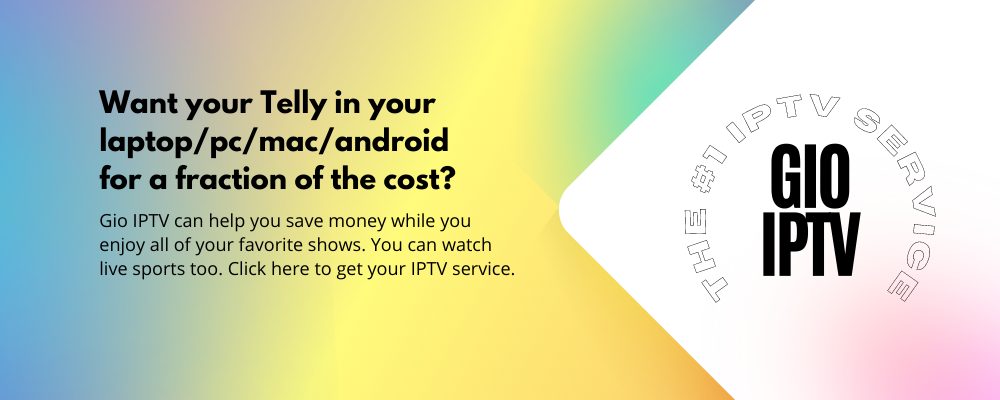 Frequently Asked Questions
Here are some answers to the frequently asked questions about the TiviMate IPTV player.
What is TiviMate IPTV Player?
TiviMate is an IPTV player app. You can watch IPTV with TiviMate on your android based devices. You'll need an IPTV subscription to use it on the TiviMate.
Is TiviMate IPTV Player legal?
Yes. Tivimate is very much legal. It is even easier to use than most IPTV players. Many people consider using TiviMate rather than other IPTV players. Tivimate is just an app and it doesn't provide any watchable or entertainment content thus there is no issues of being legal or not. Now, if you want to add content that's where the main concern starts.
Because of a group of illegitimate people who don't have proper licensing for the content they stream or broadcast, it's important you buy from good IPTV service providers. Such as GIO IPTV. Avoid a bunch of useless comments and let's get this straight is that you as a consumer hold no license nor the obligation to bear so. You as a consumer is safe all in all. Now what you have to look out for is that you buy from a legitimate business that won't steal your money, information, or do malicious things with your system or information.
So, buy from trusted IPTV service provider like GIO IPTV. Stay away from sketchy looking websites, with crappy customer services and complicated instructions or native systems from the provider. I get straight to the point.
So, before buying, check out their website thoroughly, use the in website chat option to talk to them, see if they have a blog or engaging social media or at least if they have good Reddit or Quora post or answers. Usually the iptv providers that have these things are legitimate.
Is TiviMate IPTV Player safe to use?
Yes, it is safe to use the TiviMate IPTV player. There are no complaints in the TiviMate community about vandalizing users' data. Even the payment system for the premium subscription is also secured.
Can I install TiviMate IPTV Player on my iPhone?
Unfortunately, TiviMate is only available on Android platforms right now. Android phone, Android TV both support TiviMate. But you can't install TiviMate on your iPhone or macOS.
Can I watch IPTV free with TiviMate IPTV Player?
No, you can't. Because IPTV watching needs both an IPTV player and IPTV service provider. Though the player is free to download, the IPTV subscriptions are not entirely free. You can buy subscriptions of IPTV from any service provider and use it on your IPTV player. Also free IPTV links or services usually contain viruses and bugs that's solely used to lure people into hacking their system, so it's best to stay away from free iptv links or services. You can ask for trial links from legitimate IPTV service providers like GIO IPTV to check their quality and service.
Yes, you can watch free IPTV with TiviMate IPTV player with the free trials that you can get from most IPTV providers. Most of the IPTV providers are providing free trials for their services. You just need to go to their websites and sign up for their services. TiviMate IPTV Player is a great app for watching free IPTV. It automatically scans for channels and updates all the time. You don't need to add the channels manually. It has got the features like EPG, Replay, etc. You can easily watch free IPTV with the help of TiviMate IPTV Player.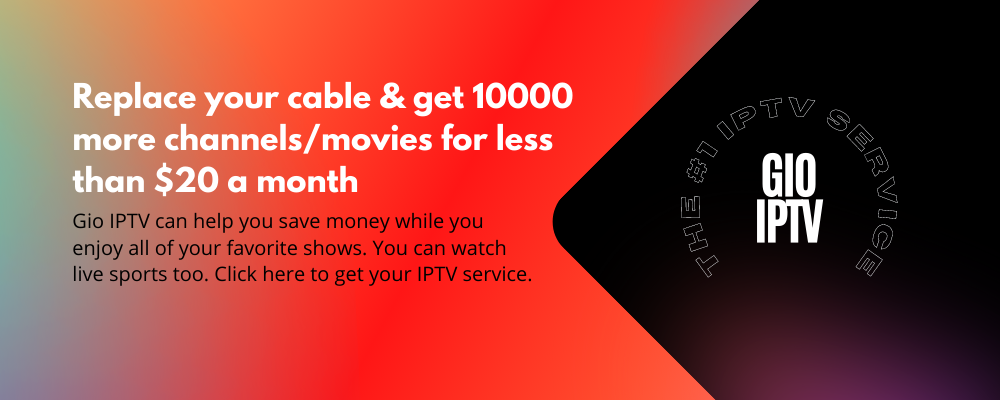 Search
Recent Posts
Categories