August 23, 2022
In this blog post, we talk all about the best apps for android tv that is a must-have.
The whole definition of TV watching was changed in the year 2014. Google announced the first-ever Android TV. There was no satellite cable needed. Just use your regular internet connection. And it changed the whole definition of TV. Suddenly, you could do more with your regular, boring TV.
Android TV is getting more popular day by day. Giant tech companies like Sony, Samsung, OnePlus, and Xiaomi are making Android TV boxes. You can add these devices to your smart TV with an HDMI cable. And it becomes an Android TV.
In this blog, we are going to talk about the top 10 apps you can and should have in your android tv.
Because your Android TV is like your Android smartphone. You have access to tons of cool apps. You can play games, run simulators, and do whatever you want to do with your Android TV.
The whole Android TV experience solely depends on the app you use. Almost every Android TV has the Google Play Store installed on it.
Also, there is always an official app store on every Android TV. Companies like Sony, Samsung, OnePlus, and Xiaomi put their official app store on the TV. You can install apps from the stores.
And you can sideload any app from outside the app store if you want.
Here is our list of 13 best apps for Android TV: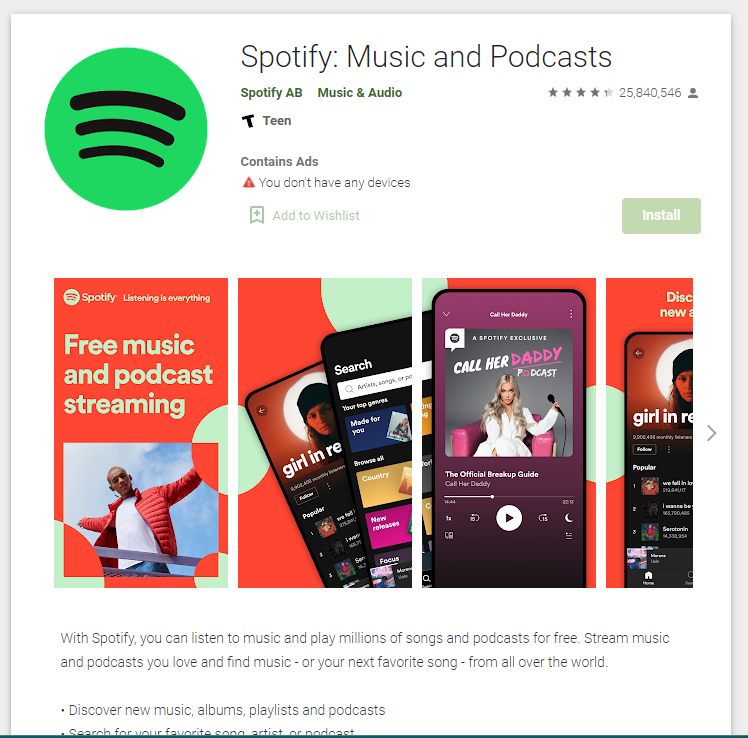 Spotify is undoubtedly the best audio streaming app out there.
Listening to music on an Android TV is a bit of a hassle. Built-in music streaming apps are full of annoying ads. Moreover, the collection of music is very small.
You could use Youtube to listen to music. But the free version doesn't support background playing. Plus, there are a lot of ads on Youtube nowadays. It really messes up your whole music listening experience.
On the other hand, Spotify does an amazing job. Now it has become one of the best music and podcast platforms. Artists from all around the world release their songs on Spotify first. Artists upload their songs and podcasts through the Spotify creator app. The library is so huge that it contains a lot of content. You can search for any song on Spotify. And it is almost certain that the song will be there.
Spotify is the best audio streaming service in its category. It comes with a monthly subscription package. And the app is also very interactive and easy to use. This is a must-have application for Android TV.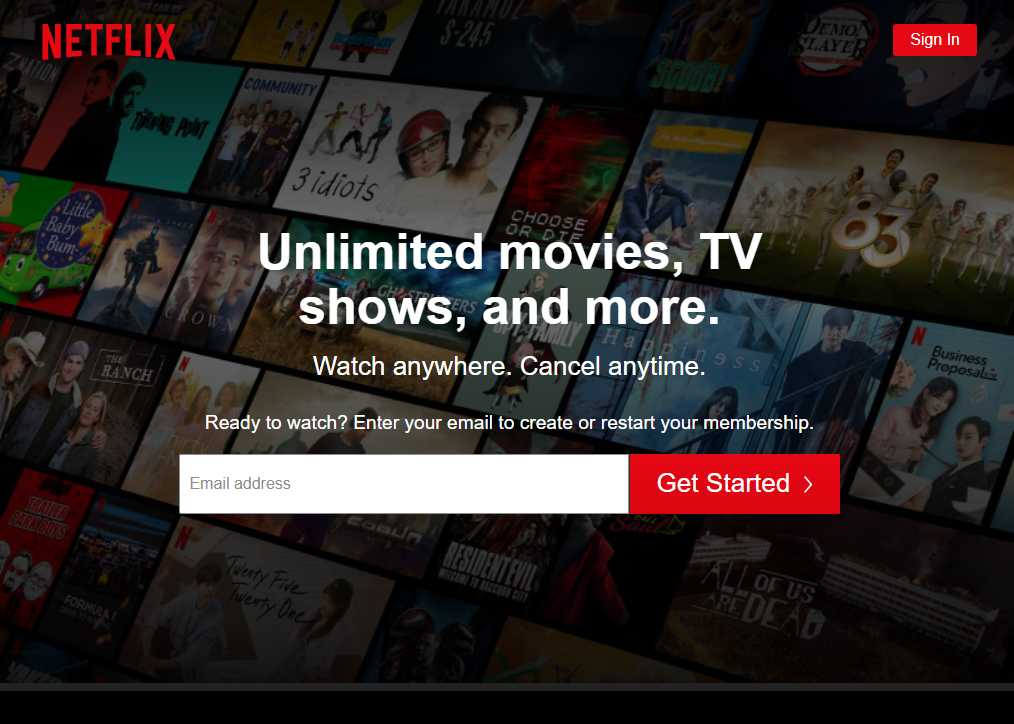 Netflix is becoming a revolution in the video streaming industry. It is a VOD (Video on Demand) platform. It contains a huge library of videos. And it lets the user enjoy all the contents with a small subscription package.
Netflix is a one-stop video streaming solution. It has a lot of video content, like movies, TV shows, documentaries, and all. Almost all the popular movies and TV shows are available on Netflix.
Netflix has also become a video production company. They have many great shows and movies. And guess what? They publish all of their shows directly on the Netflix app.
The Netflix app for Android TV is very intuitive and easy to use. The app has a very simple interface with only the most essential options.
The video quality mainly depends on your internet connection speed. But they have upgraded the speed of their server. The app preloads the videos while you start watching and brings the content to you.
Thus, you get the best video quality possible.
Netflix is a great addition to your Android TV.
3) Send Files to TV (SFTV)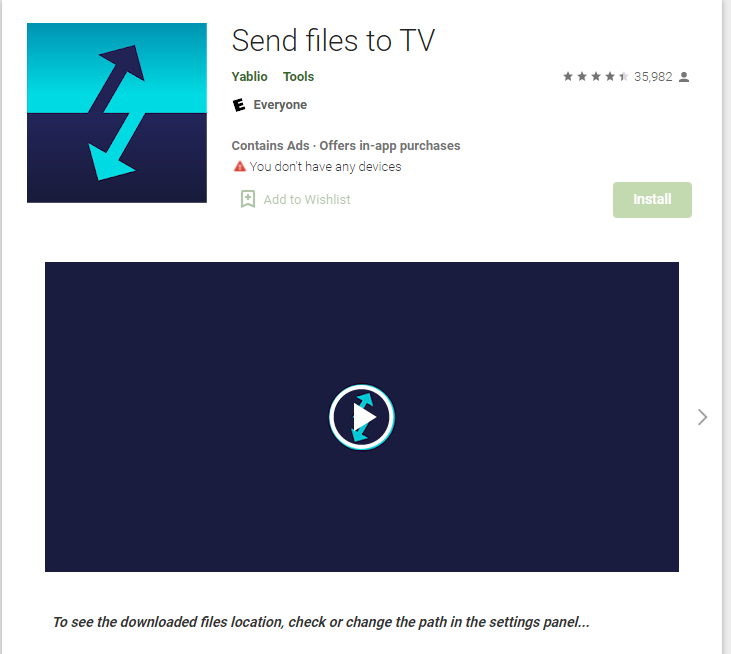 Send Files to TV is a very handy app for your Android TV. It literally does what it is called.
When you need to transfer files to your TV, this app is your best companion. From your smartphone, you can send files like songs, videos, and documents to your TV.
The whole process is wireless. You won't need any cables to work with them. You'll just need to install the smartphone app on your phone as well as the TV app on your TV. Then you can transfer files on the fly.
You'll have to connect your TV and your phone to the same wifi network. Only then will the app work.
The transfer speed is very good in terms of other means. Files are transferred quickly over the wireless network. And the failure rate is very low.
4) Solid Explorer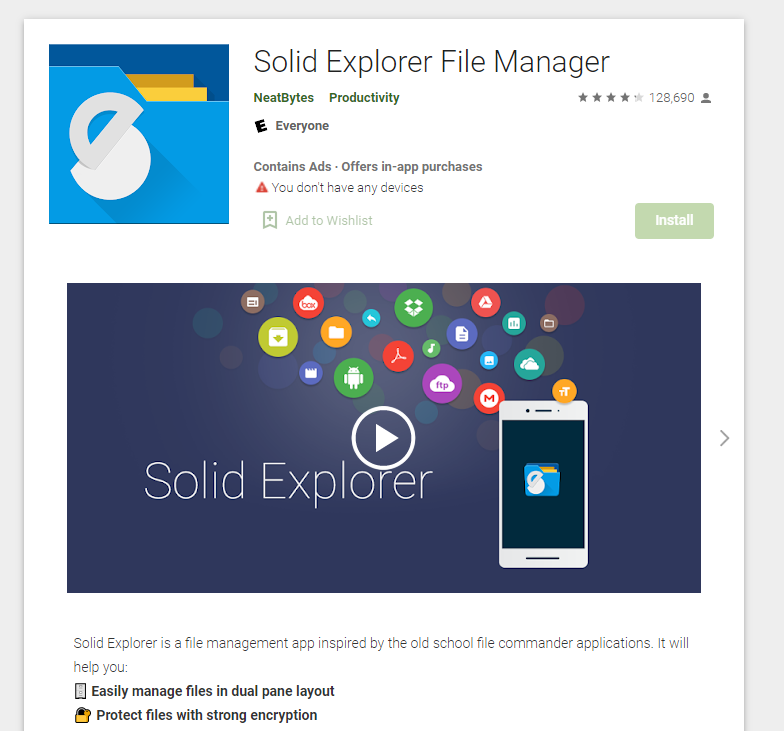 To access the files you transfer, you'll need a traditional file explorer on your Android TV. Because the built-in file explorers can't give you the full usability. Solid Explorer lets you browse the whole internal storage of your Android TV.
Previously, ES File Explorer was the go-to file manager for any Android device. Due to many data violation complaints, ES File Explorer is not safe to use anymore. Google has banned this file manager from the Google Play Store.
Solid Explorer has taken the place of ES File Explorer in the Android community. The Solid Explorer offers the same features as the smartphone app. It has a multi-panel layout in the Android TV version. So that you can navigate the folders as well as the files in them.
Solid Explorer lets you use the FTP servers directly from your TV. When it comes to sideloading, Solid Explorer is a gem. You can install, uninstall, and remove any third-party app from Solid Explorer.
5) Kodi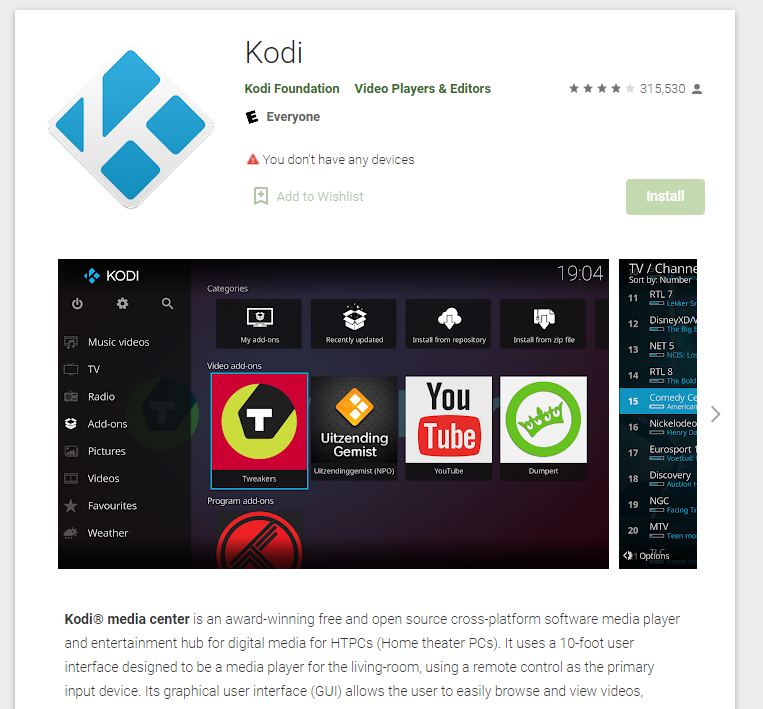 Kodi is an all-in-all media manager for your Android TV.
Kodi lets you manage all of your media content inside the app. Videos, TV shows, and images are all sorted automatically in the app. You can watch content directly from the application. Also, you can access them from a remote location.
Kodi is a great file manager when it comes to content. You give Kodi access to your storage and Kodi sorts them all in a very convenient way. It has different sections for videos, music, images, movies, TV shows, and all.
The best part about Kodi is that it has a huge library of add-ons. All of these add-ons have different features. Kodi also lets you add your IPTV server. You can also access your whole IPTV channel list through Kodi.
6) VLC Media Player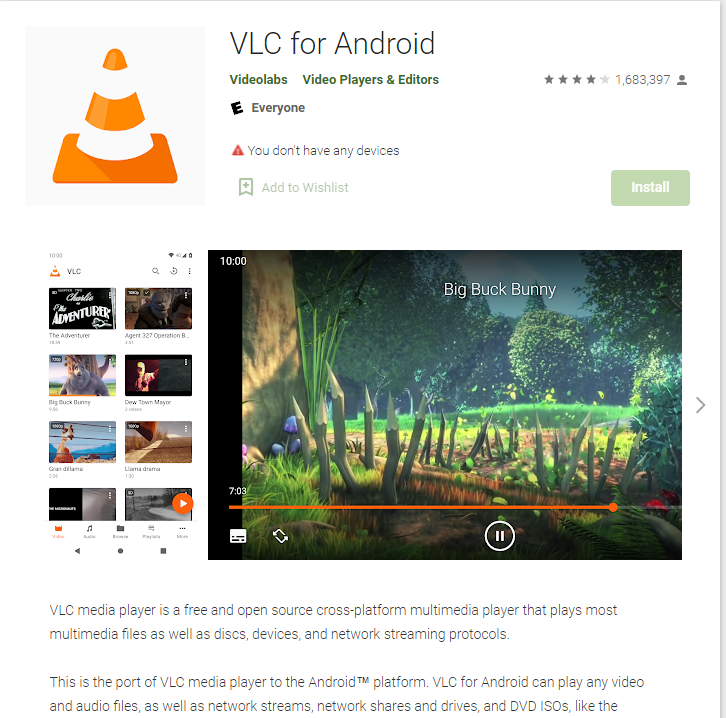 VLC is probably the most famous app on our list. This media player has been an icon for video content.
VLC supports almost every audio and video format. It has HD audio quality. Also, it can play videos from a wide range of codecs. So that it becomes very handy as a media player.
The app has a special feature. It organizes all of your media content within the application. It becomes easier to browse through the whole media library.
The user interface of VLC is very easy to use. It has all the important options on the front page. Even a new user can handle the app with ease. Due to years of updates and fixes, VLC is one of the best apps for any Android TV for video watching.
7) Google Chrome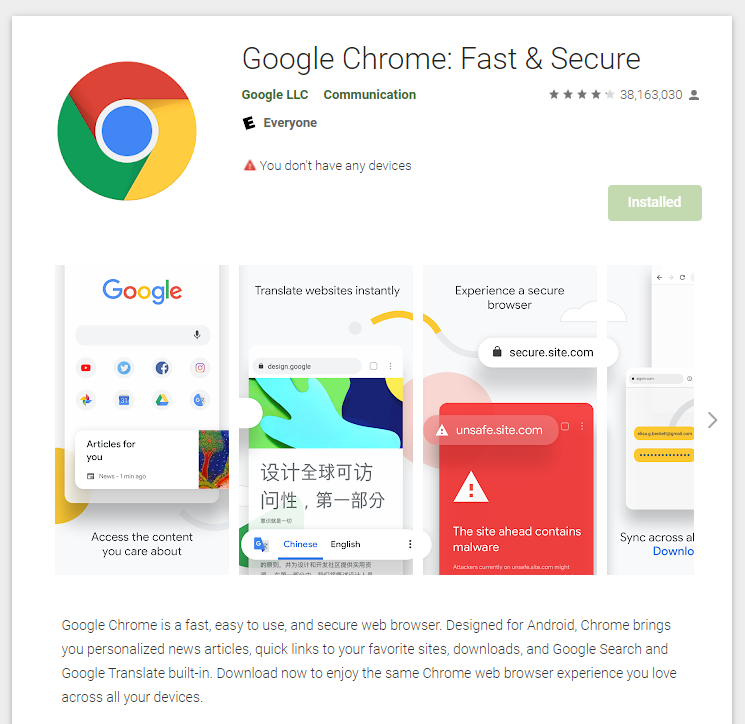 Undoubtedly, Google Chrome is one of the best web browsers out there. It is the most reliable and stable web browser for Android out there.
It offers a fast and minimal browser interface. Website loading is fast on this app. Also, the download speed is faster than any regular browser. It has an incognito browsing mode for secret browsing. It promises to keep your data private.
Chrome has a built-in Google Translator. It can translate web pages from different languages.
And the best part is the sync ability of Google Chrome. If you log in with a Google account on Google Chrome, it brings all the previous bookmarks and settings. This is a great time-saving hack.
Google Chrome doesn't come pre-installed on the Android TV. Also, there is no Google Chrome app in the Google Play Store for Android TV. Though the Android version works on every Android TV, you'll have to sideload the app.
Sideloading Google Chrome is also an easy process. There are plenty of ways you can sideload Google Chrome.
8) TVusage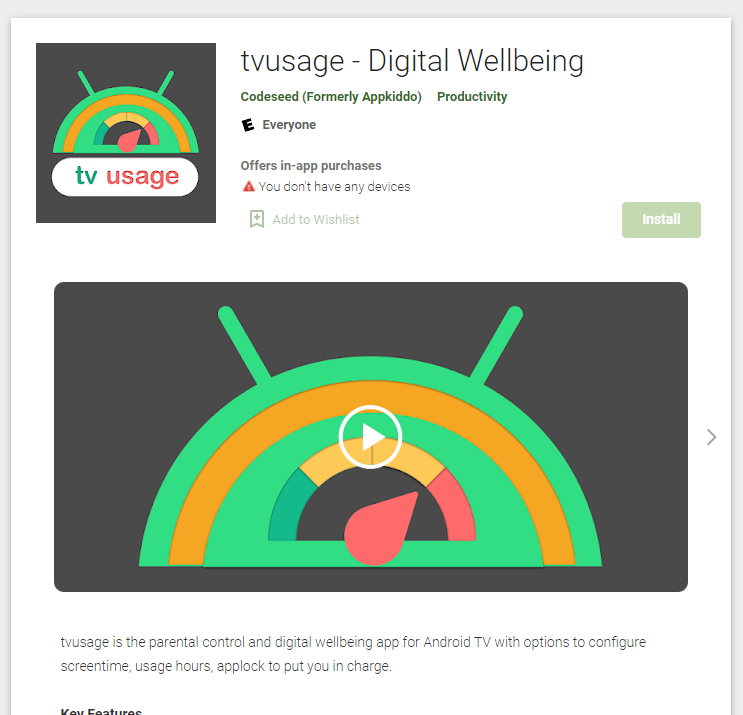 Whether you are an Android user or an iPhone user, you must've heard about the Digital Wellbeing feature. TVusage does the same for your Android TV.
TVusage tracks every app usage in your Android TV. It shows how much time you are spending on each app. TVusage lets you limit your screentime for each app. If you want to limit spending time on a specific app, you can do that with TVusage.
It also works as a parental control for your Android TV. You can lock an app with a 4 digit PIN number. So that only you can access certain apps.
TVusage lets you exclude an app from your app list. No one will find the app until you turn it on inside the app.
This application is very useful for a family situation. You can choose what your kids can watch and whatnot. The user interface is very easy to use. This is a must-have application for Android TV.
9) ATV Launcher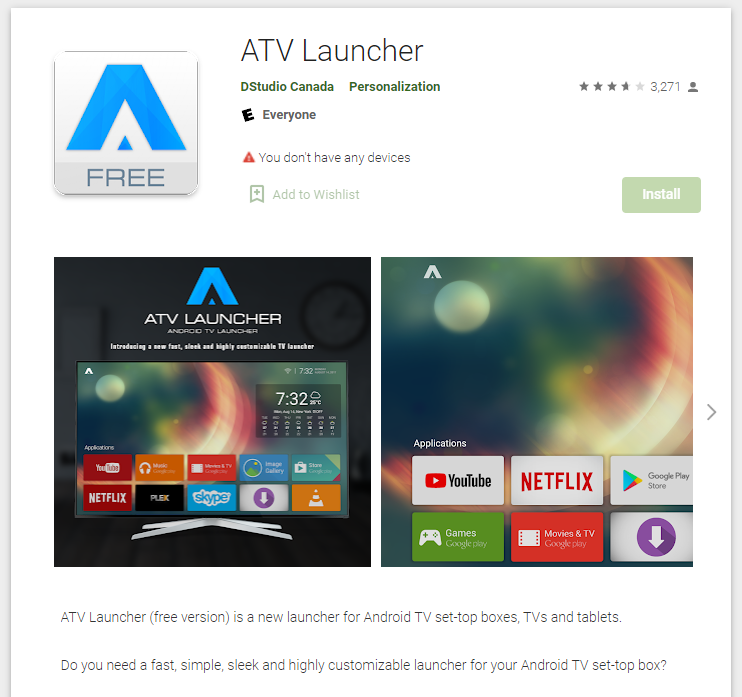 There is always a complaint about how irritating the default app launchers of Android TV are. The ATV Launcher solves that problem.
The built-in app launcher inside every Android TV is not that easy to use. Some of them are buggy and show ads. Most of the launchers don't show your sideloaded apps in the app list. You need to go the extra mile to access your favorite sideloaded apps.
The ATV Launcher comes with a very simple action. It lets you browse all of your apps on a single page. And it includes all the third-party apps installed on your device.
Also, the homepage is very simple and eye-soothing. It shows connectivity buttons on the top. Not only that but there is also a time and date in the top right corner. It looks sleek and professional.
This is a great app to install on your Android TV.
Android TV is one of the greatest additions to your day-to-day life. It lets you use the giant screen of your TV as an Android device. It lets you play music, watch videos, play games, launch apps, and so on.
But the whole experience is dependent on the apps you use on your TV. This is what we have tried to achieve. We have listed the top 10 best apps for you. We have tried to cover a wide range of usage areas. You can't go wrong with any of the apps listed.
10) Tunnelbear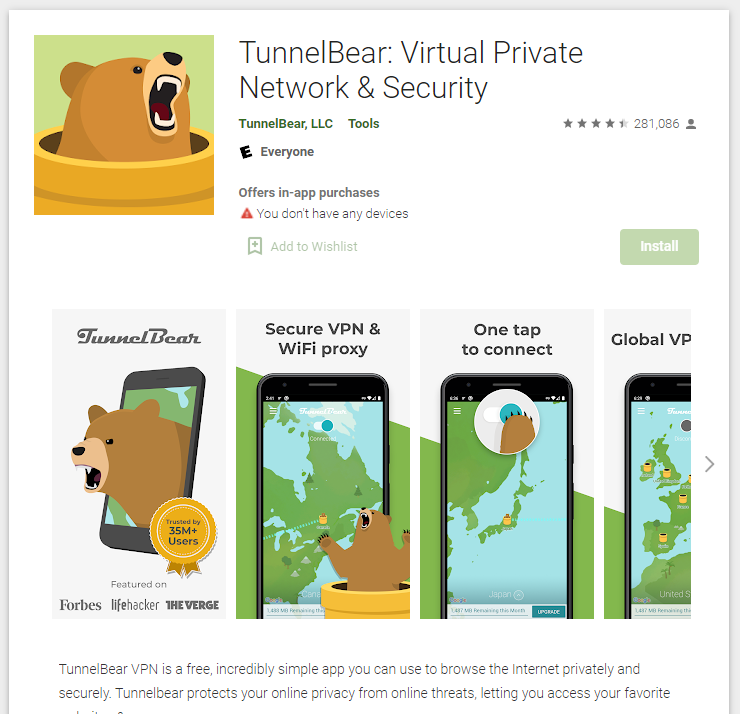 Having a VPN (virtual private network) application never hurts. It keeps your IP address hidden while you are browsing, and can be used to bypass geo-restrictions when it comes to viewing content on websites. (Unless you're stealing movies and shows that is.) Tunnelbear is one of the best Android TV VPNs around and it works really well.
To use Tunnelbear, all you have to do is download the VPN app onto your device. There are a few things to take note of – considering the number of other services out there that allow users to browse anonymously on their devices-
You're only allotted 500 MB of data for free every month,
Payment plans are available for those who need more data or enjoy using their services longer than one month,
Tunnelbear doesn't provide anonymity for downloads that use P2P protocols.
YouTube TV
YouTube TV is a must for anyone who has cut their ties with cable. With thousands of hours' worth of content, you can catch up on shows that would otherwise be unavailable in your region (government restrictions). And with features like seamless switching between different types of content – movies, sports, music videos, live videos, and more – you know you'll still enjoy YouTube even if it's slightly behind the times against competitors.
Choosing freely this form of media allows me, your avid TV watcher, to really get in it with the characters. The way they react on a day-to-day basis gives me another perspective on life and specifically how some problems I face are like or different from the characters' problems.
Choose-your-own-adventure TV is great! If you love being able to switch between a choice of multiple viewing options then this is the app for you. Yes, you may encounter some bug issues as well as not to mention subscription being a little too pricy than say regular IPTV such Gio IPTV but if you only want your local network without ads then youtube tv is a good choice. Besides that, you should give Gio IPTV a try if you want foreign channels as well as access to a massive library of series, movies, and documentaries that hardly any online subscription provides.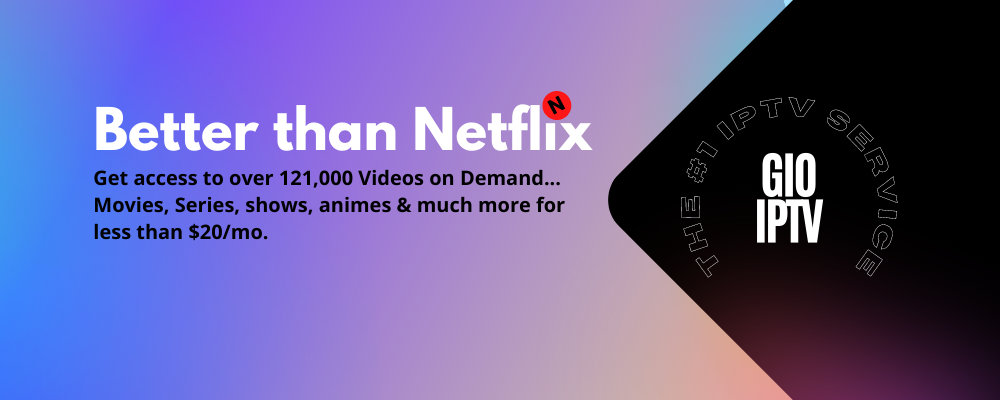 11) Sideload Launcher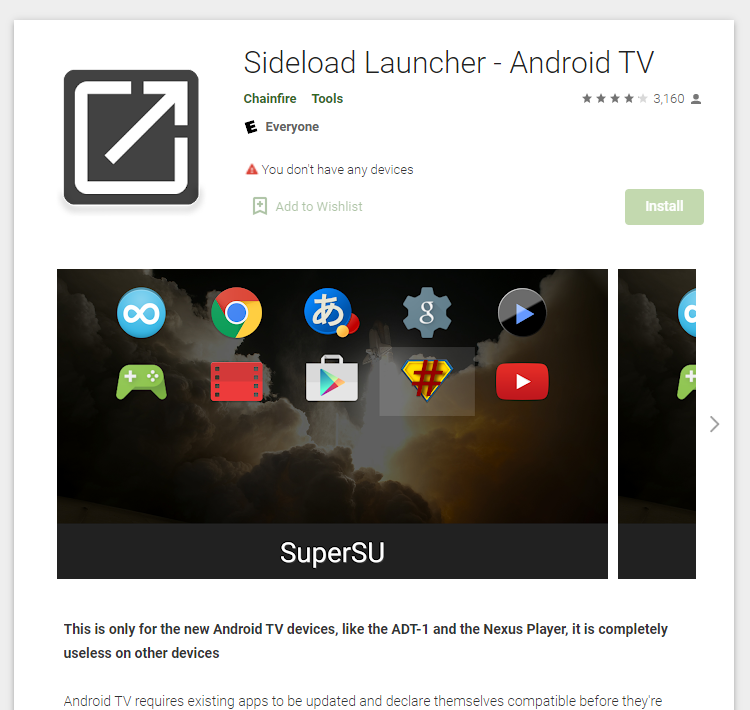 Android apps don't show up on the Android TV? Never fear, with Sideload Launcher they can all be accessed place them, too. Chainfire developed and created this app just for you. What's great is that there is a section that includes icons which makes it easy to sort out the items so you can find what you are looking for much faster.
This is the only way you can launch sideloaded apps on an Android TV; at least for now. So if you're looking to sideload apps in your living room and are having trouble following a tutorial, take a look at this launcher. If there are other ways but then I found this one the most reliable out of all the options available.
12) Wake On LAN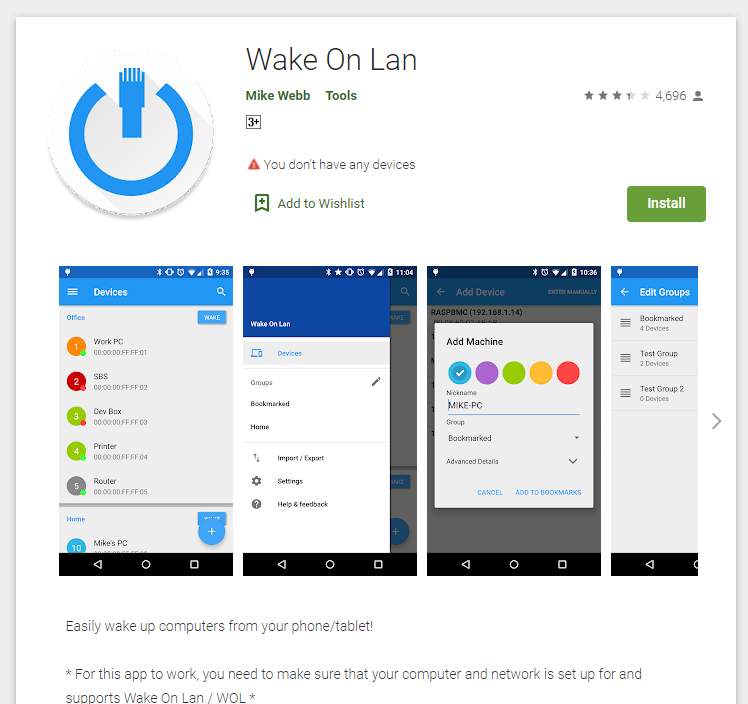 If you're using your Android TV with Kodi or Plex installed, chances are that you've already set up a computer to act as your server for content. But what if the server isn't on? With Wake On LAN, you can wake your computer by sending a signal to it over the internet.
What's even better is that you can even set it up so that your computer turns on automatically, when someone posts a message on WhatsApp for example. All thanks to the Tasker and Llama apps! You can configure your computer system to support Wake On LAN (WOL) commands, or if you're already in the habit of sending yourself text messages once in a while, then that's probably okay too.
Make sure your internet connection supports WOL though as without an active internet connection, you won't be able to send any signals remotely. If this part is missing on your unit, we also recommend having it configured to receive text messages.
Once you get the hang of it, you won't go back.
Never have to walk down the stairs to turn off your old router,
will scan your network and detect all the available devices, you don't have to enter any details manually,
Turn on your PC via this app remotely (even outside your network)…and much more is possible with Wake on Lan.
13) Twitch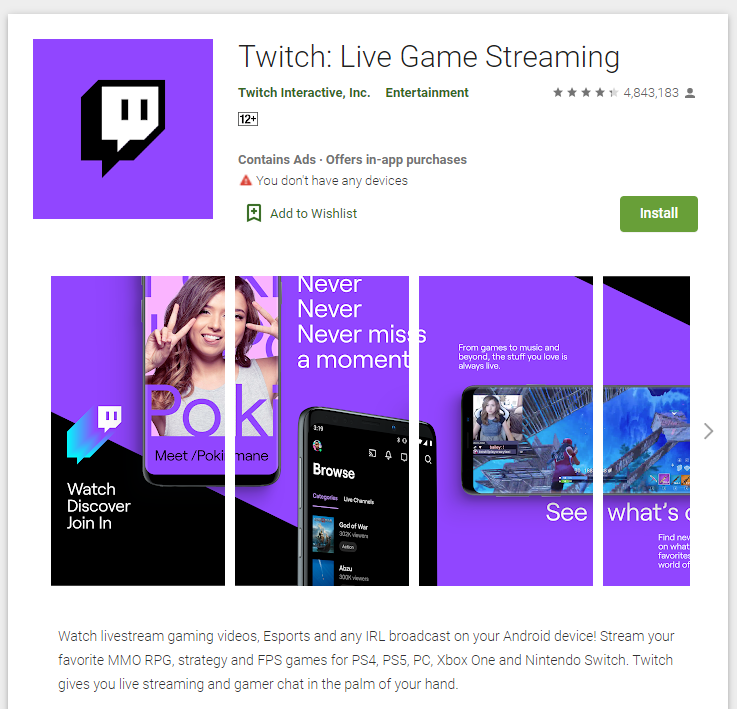 If you love watching live streams of different gamers playing their favorite online games, Twitch is the place to be. While there are many apps and websites intended for this purpose, the unique thing about Twitch is that it does more than get people to watch fun videos. It actually makes your experience even more interactive than ever before as you can connect with other gamers who could have some tips and strategies you may want to try yourself!
It's always a lot of fun to watch others play video games for entertainment, as well as for learning new things about the way players approach the game and the challenges it offers. If you are not happy with the service then you can check out some Twitch alternatives, listed below. Gaming is a rapidly growing hobby that many adults enjoy and even whole communities have formed around it!
14) iHeartRadio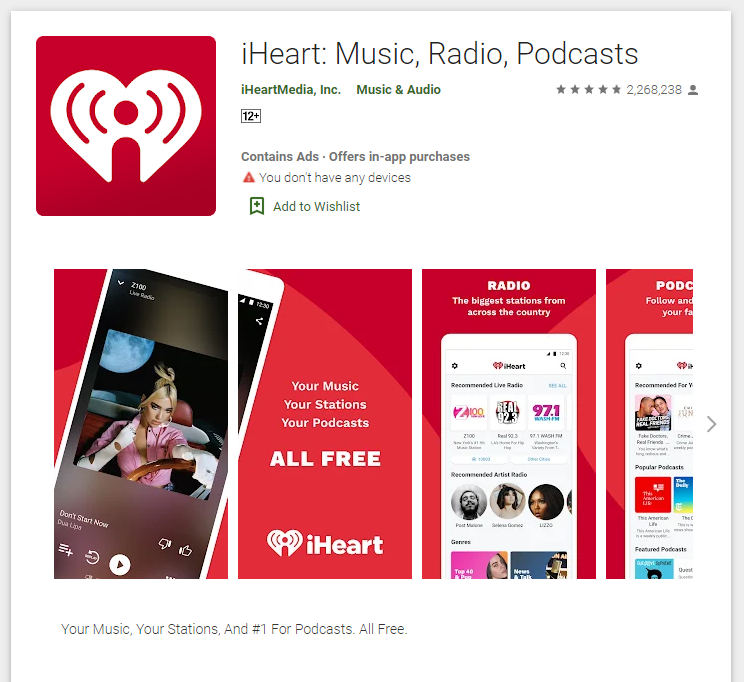 Do you want to listen to your favorite radio stations on TV and enjoy every minute of your time relaxing? Enjoy thousands of AM and FM radio stations from local as well as global sources. You can also keep up with all that is going on in the world, too, transform your living room or media room into a truly unique interior design with the help of our beautiful wallpaper collection.
Radio stations are fun and they can be an excellent method of keeping up with current events that you may otherwise not have heard about. You have a number of options when it comes to radio stations on Android TV, but iHeartRadio (which is free) is considered a radio powerhouse and has a lot to offer.
This station is pretty similar to Spotify in format though it features fewer songs than Spotify as it's mostly a radio app. If you're an NPR junkie, or want to keep up with sports scores or even hear the latest comedy news from The Daily Show with Trevor Noah, this might be just what the doctor ordered for your taste buds.
Here are some answers to frequently asked questions about Android TV apps.
What apps can you get on an Android TV?
Android TV supports all the apps that are made for Android. But there is a different section for Android TV apps. As the build is different for Android TV, every Android app may not work on the TV.
An Android TV includes applications like Youtube, Netflix, Google Play Movies, HBO Go and many more. You can install applications to your android tv by connecting your android phone. For example, if you want to install the Angry Birds game to your Android TV, you need to install it on your Android phone and then connect your phone to your Android TV.
Can Android TV run all Android apps?
No, Android TV comes with a customized version of Android. It is optimized for TV devices, has a leaner and faster interface, and also comes with a new way of navigating through apps. You can find all the apps you know and use on your phone or tablet on Android TV, plus lots more that work especially well on your big screen.
Built-wise, each Android app should run on Android TV. But there is a limitation regarding the usage of the app. You can't touch or move your TV while running an app. The Google Play Store for Android TV contains all the apps that are compatible with your TV. You can also sideload apps that can run on your TV.
Is it worth buying an Android TV?
Yes, it is. Android TV lets you become free of all the satellite cables. You won't need a set-top box to watch TV anymore. You won't have to pay for cable service. All you need is an internet connection, which is pretty much available in every case.
An Android TV is definitely worth buying. It is a much better system than Apple TV or Roku. It is also more affordable and you get more bang for your buck. An Android TV device is going to allow you to do a lot more than watching movies and shows. You are going to: Stream movies and shows. They have a lot of great games for Android TV devices.
Android TV Is Perfect for Cord Cutter's Unless you have a compelling reason not to use Android TV, there are very few reasons why cord cutter's shouldn't look into this device first. The sheer breadth of available apps makes Android TV the most customizable streaming solution for your needs.
Search
Recent Posts
Categories