April 18, 2022
Over the years, video streaming services have seen an enormous rise. The promise of enjoying video and audio content is now more prominent than ever. Major streaming services such as Apple TV are something that many can recognize.
However, even though the internet protocol television has picked up quite a good amount of popularity, a couple of terms still give people a tough time. In fact, the question of what are the differences between IPTV and OTT is so common that every internet TV discussion forum has at least one thread regarding the topic.
Well, the good news is that you have just stumbled upon the right source to know all about internet protocol television and OTT streaming. We will cover each of the details and make you understand every bit of OTT and IPTV.
What Is IPTV?
IPTV stands for internet protocol television. As the name suggests, it is not like traditional cable TV or satellite TV. Instead, it is a digital television system that will require an internet connection.
IPTV services will send live and video-on-demand features over the broadband internet at its core. However, the content delivery will mostly be through a managed network.
When the service provider selects a managed network, their first priority is a privately managed network. In other words, you will notice that the content is delivered mostly through WAN, LAN, or through the connection of the internet service provider.
Now, as the IPTV services will reserve bandwidth expressively for the content delivery, the video delivery process goes smoothly.
In other words, the content is delivered by maintaining the quality, and the users will mostly enjoy high-quality video through the service. And the IPTV providers can offer a more consistent service, thanks to that.
How Does IPTV Work?
You can think of the internet protocol TV as browsing through the public internet pages. Yes, we are talking bout web browsing.
Basically, the internet protocol TV will keep TV programming and video file stored on the servers. Then, the servers will encode, encrypt, or transcode the video content to make the users capable of streaming video content.
This processing method will be different for the services. Apple TV enhances the video quality by opting for a much-advanced process. The same thing is somewhat applicable to Amazon Prime Video and Prism TV.
Now, when the users are video streaming, the server will send the streaming content through the internet network using the multicast method. Now, what does this method mean? Well, instead of making individual copies of the video, the data will be sent to a group of destination recipients at the same time.
Multicast is basically many-to-many or one-to-many distribution technique that enhances the service quality. It is like broadcasting, which works for cable or satellite television. But in this case, the video will go only through a dedicated network and will be available for specific users.
How to Setup IPTV?
If you have a smart TV, you can opt for IPTV and enjoy high-quality videos without needing a set-top box. On the other hand, if your TV is not recent and you do not want to upgrade, you will need to use a streaming TV box.
Otherwise known as a set-top box, it will talk to the TVs that generally understand cable or satellite television signals.
On that note, when it comes to watching higher quality content and getting a smooth Video on Demand service, you need to ensure a proper internet connection speed. If the internet speed is up to the mark, you enjoy the content with fewer interruptions.
What Is OTT?
If you look around, many people enjoy content through a publicly accessible internet connection. They are not just watching content from a TV, but getting video-on-demand (VOD) services on their phones as well. Well, that is what OTT is all about.
Basically, OTT streamed content refers to over-the-top, meaning users can enjoy TV channels, programs, and videos through any device. All they will need is an open internet or broadband connection. In other words, IP-based connected TV is not required to enjoy OTT service.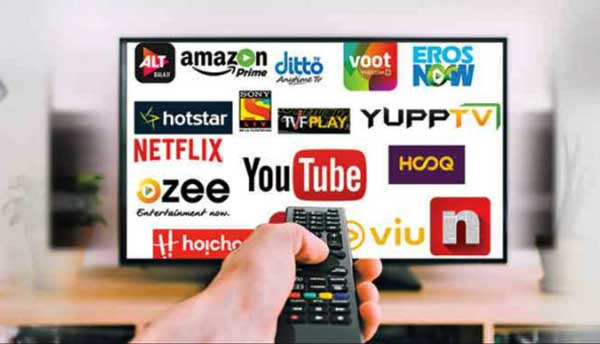 The over-the-top business model generally bypasses the traditional satellite, cable, and broadcast gatekeepers. And when you reach ott streaming for your content consumption, you are basically taking part in the "anywhere, anytime" notion. The over-the-top content is delivered to anyone that is connected to the internet.
Think of it like going to the public internet pages, yes, just like IPTV. But in this case, you do not need a TV. Also, OTT providers will usually provide free content but with embedded ads to make money. And the OTT services have taken over the TV market by storm, thanks to their free content.
Differences Between OTT and IPTV
When you talk about the difference between IPTV and OTT, many will tell you both IPTV and OTT are the same things. Well, the fact that OTT and IPTV are offering content through the internet does make them seem like the same thing. But they are very different.
Delivery Method
As we have mentioned, IPTV will deliver content through a managed or dedicated network. It will only be accessible to the computers attached (smart TVs or set-top boxes) to the internet protocol.
On the other hand, OTT video goes through an unmanaged network. Anyone from any device can view the content. Yes, you can view over-the-top videos with device data and WiFi. But regarding how much data you will need, it will depend on the quality of the video you are streaming.
Requirements
For IPTV, you would need a compatible TV or a set-top box. On the other hand, OTT content is delivered through the public internet. So, you can watch it from any device that can use a browser.
Features
IPTV is mostly for watching TV programs. Yes, premium services will offer video on demand or catch-up TV services, but those will cost extra. You can also get to see different content on the date of release of different shows.
OTT services, on the other hand, will provide VoD services mostly. However, some will offer live tv options, as well.
Quality of the Video
The quality will depend on the speed of the internet and the available bandwidth for the OTT. For IPTV, you can always expect to get high-quality video, even during the peak-hour viewing periods.
Price
As we have mentioned, OTT services can even be free. Yes, you will not require any subscription fee to watch the content. However, you might need to deal with ads. For the ad-free services, you might need to pay a small amount of subscription fee.
On the other hand, IPTV services will not be free. You can expect to pay a rate that will be comparable to satellite or cable TV. And for the premium services, the price can be pretty steep such as Time Warner Cable,
Final Words
If you are still wondering what are the differences between IPTV and OTT, think of IPTV as modernized cable TV, while the other is a service that will provide you stored content whenever and wherever you are. The first one will require you to pay a hefty price while the other can be free.
Now, when it comes to selecting one, you need to consider your requirements and what type of content you want to stream.
Search
Recent Posts
Categories