May 31, 2022
In this modern time of technological revolution, the way of watching TV has been changed by Internet Protocol Television Services. Nowadays, TVs don't require antennas, satellite dishes, or setup boxes anymore. To enjoy modern television services on the computer we'll be needing players and we are going to talk about Best IPTV Players For Windows.
IPTV Service Providers follows several streaming protocols so you can have the full IPTV experience.
All you need is a computer with a display with the best IPTV Player. And you can now watch hundreds of channels, live tv channels, and games directly from the fiber optic cables internet connection.
However, It has been possible by IPTV services to stream IPTV. For elaborate discussion, IPTV stands for the name Internet Protocol Television. With an IPTV player, you can watch whatever content you want.
For example, Like Live TV Channels, Movies, and more.
And as a windows user, you gotta know about the best IPTV player for windows to have the ultimate experience. Because all of the players out there have different abilities.
Some are visually pleasing and some are easy to use.
To ease your pain, we have made a list of the best IPTV player available in the market. But first, let's have a look at what an IPTV is and how it works.
What is IPTV (Internet Protocol Television)?
In general, IPTV stands for the abbreviation Internet-Based Protocol Television. Cutting off the technical jargon, IPTV means watching tv through the internet.
And to do that, you'll require an IPTV service and an IPTV player. Most of the IPTV services provide subscription-based services.
By getting, an IPTV subscription, you'll be able to watch television shows from anywhere on any device with an internet connection. There are several types of services that IPTV provides. They are:
Video on Demand (VOD)
VOD means watching any digital content or show at any time of your choice. When a user wants to see any program and clicks on it, the program is brought to the user's IP by the services.
In fact, you are using VOD services without even knowing it.
Remember your Netflix subscription? This is a VOD service of IPTV. Likewise Amazon Prime and Hulu.
Time-shifted Media
Some broadcast networks give you the access to stall a running program and watch them later. It may sound a lot like VOD services.
But it has a limited shelf time and storage. If you are using BBC iPlayer to watch content, then you may already know about it.
Live IPTV Channels
Live IPTV literally provides what it is named after. It gives access to numerous live tv programs over your IP network.
With subscriptions, you can easily access hundreds of tv channels streaming live all over the world. Live IPTV player provides programs like sports channels, news channels, and so on.
This comes in very handy to watch live TV directly from the internet.
How Does IPTV Work?
On the contrary, IPTV allows users to watch television channels and access numerous different digital content over IP networks.
When a user clicks on a TV program or requests a video, the content from various servers is divided into data packets. And then the content is delivered to the user's IP address.
Firstly, You'll need to subscribe to IPTV services. Then they'll give you a username and password. Secondly, you'll just log in to your account with them and you are good to go. Then they will broadcast channels into an app.
Basically, IPTV services are consumed by IPTV players. It doesn't matter whether you are using a cable internet connection or cellular.
You can watch the contents even from your phone with the supported IPTV app. However, there is numerous IPTV player for windows too.
Why do you need an IPTV player for Windows?
In this modern technology, IPTV has developed a digital binge-viewing system, and traditional tv series including cable/tv networks collapse.
Watching television programs and sports streaming from phones to smartphones is becoming more common in today's digital age.
IPTV can be extremely useful for downloading and reading various media streaming protocols into Windows devices for various purposes. Specially for watching your favorite tv channels.
Top 10 Best IPTV Players for Windows
When it comes to IPTV players used to get access, to digital tv services in windows 10 and other versions, there are numerous options available on the web and market.
All of them promise to provide digital television services with different tweaks. That is why we have made a list of the best IPTV players for widows. Let's have a look at our list.
VLC Media Player
VLC Media player is a widely accepted multimedia player. And the best part is, it is a free tv player. VLC Player is known as VideoLAN Client.
VLC Media player is an open-source cross-platform player which can play local media as well as IPTV streaming content. It uses m3u files to stream IPTV content. It's also considered one of the best players for windows 10.
The main reason to use VLC Player is there are no hidden spyware or bulletins hampering your data. However, the user interface is very friendly and all the important options are there.
To stream content in VLC, all you need is to go to option Media. Then Network Streams and put the URL of your IPTV network. And you are good to go.
Key Features:
Free IPTV Player.
Supports almost all the available file formats.
Completely free and open-source software.
Runs on all the windows pc versions.
No spyware, ads, and trackers.
Internet Radio might not be available.
KODI
KODI is one of the best IPTV players on our list. This is a multimedia player which is available for multiple platforms. It can access local storage and play multimedia as well as stream IPTV servers.
KODI is mainly famous for its huge community and the availability of add-ons. You can easily watch IPTV by using IPTV add-ons.
The very simple and easy-to-use interface makes it one of a kind engine. And there is plenty of support from the KODI community where you can get ideas to do more awesome stuff like live streaming radio, music, and so on.
Key Features:
Total multimedia consumption machine – watch television and shows, listen to audio, view photos.
Simplest interface with very customizable design.
Chance to explore various add-ons.
One of the largest communities with various supports.
MyIPTV Player
While other players are known as mostly multimedia players, MyIPTV player is solely based on a simple task. To stream IPTV media. It's also a free TV Player.
It supports m3u playlists from local to remote sources. Additionally, it has Electronic Program Guide (EPG) which comes in handy while watching IPTV Channels.
This player has a very simple user interface containing three options: "Channels", "Favourites", and "Settings" which is very easy to use.
Also MyIPTV player has multiple channel filtering options as well as pin protection. Which is able to give the ultimate IPTV experience. It's available in Microsoft Store.

Key Features:
Free IPTV Player.
Built-in EPG.
Auto filtering channels and grouping.
MPEG TS and supports HTTP Live Streaming (HLS) are supported.
Chance to download Video on Demand (VOD) streaming.
Perfect Player Windows PC
As the name says, this player is perfect in every corner. Being a media player, the Perfect Player for Windows PC also works as a fully functional IPTV player with EPG.
Besides, it is totally free to use. It also supports both m3u and XMBC playlists. You are never running out of shows.
Perfect Player for Windows PC has a semi-transparent OSD. Additionally, the display size is customizable without any extra fee or anything.
And this awesome player also has multilingual support with a wide variety of languages.
Key Features:
Free software with all the advanced features.
Built-in EPG.
Multilingual support.
Semi-transparent OSD with full-screen display.
OttPlayer
OttPlayer is one of the best IPTV players available in the market. This player is made to give a centralized experience to the user.
OttPlayer allows you to watch tv and shows directly from your internet service provider (ISP) as well as other sources. It supports the m3u8 playlist.
You can watch content on OttPlayer from your phone, pc, tablet, set-top box, or TV.
It also has a very useful windows pc app.
And you can download pc software directly from Microsoft Store. And above all, this player comes without any annoying pop-up ads.
Key Features:
Stream contents also from ISP.
Centralized experience through the website.
Supports m3u8 playlists.
No annoying ads.
ProgTV/ ProgDVB
ProgTV is a great IPTV player for experiencing live tv, radio, and music. It has a special feature to play digital box and online radio contents separately.
And it has two separate UI that works together and offers a great experience.
Although ProgTV is a paid software, its free version has many options which are more than enough for most of the users.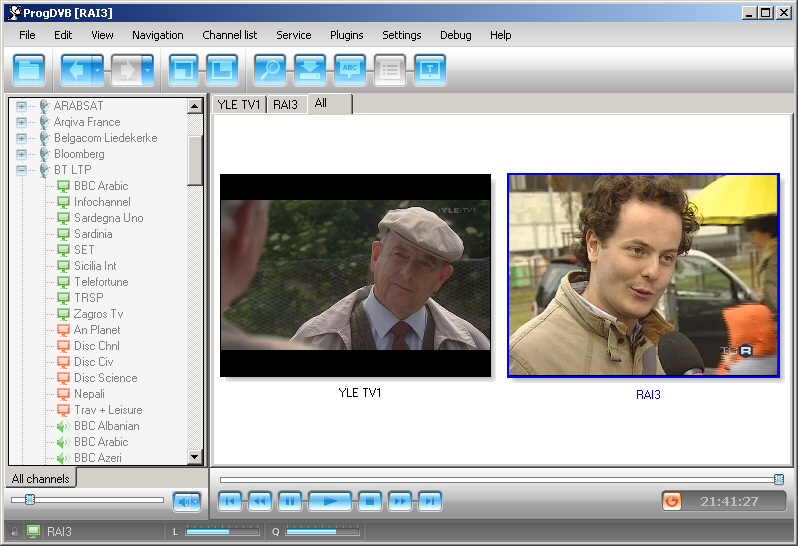 This app can be used as a mouse for your pc and can remotely control your home pc.
Also, this player is available on multiple platforms like Windows PC, macOS, mobile, and TV.
ProgTV offers features like favorite lists, per-channel zoom, ratio settings, time-shifting, record, subtitle support, and many more.
Key Features:
Supports All your IPTV channels, Internet TV and radio, Rodina TV, DVB-S, DVB-S2, DVB-T2, and many more data sources.
Built-in EPG.
Supports tv and radio stream recording.
Available on almost all platforms.
Might not support online radio channels.
Free TV Player
Free TV Player is one of the most lightweight IPTV players on our list. It offers both free and paid versions.
It supports m3u playlists. And the cross-platform availability is very handy for this player.
Because, this player is available for platforms like Windows PC and macOS pc, Xbox One, HoloLens, Hub, android, and iOS devices.
The user interface is very friendly and easy to use. You can easily navigate through various options on the menu and land on your favorite shows.
This app even has a YouTube streaming option. You can stream your videos directly to YouTube from this app.
Key Features:
Offers more than 40 channels even in the free plan.
Supports live IPTV, music, VOD, and all types of multimedia available.
Very light software and takes up much less storage than others.
Offers YouTube streaming features.
IPTV Smarters
IPTV Smarters has the most premium-looking user interface and most advanced IPTV player. It's also considered a Universal IPTV App.
Compared to the GSE Smart IPTV app available on Google Play Store/Android IPTV Smarters is the best IPTV app available. Both GSE Smart IPTV Player and IPTV Smarters support both M3U Url and Xtream API.
This app offers a paid option for the user.
Besides, this app supports all Windows PC versions which include 32 and 64 bit.
IPTV Smarters allows you to watch live TV, stream movies and series, and watch time-shifted media content. You can watch movies in HD and UHD with this app.
You can download and install it on pc IPTV Smarters App.
Key Features:
Free IPTV Player.
Clean and tiled interface with modern colors.
Full Display of Channel Data.
Available on Windows PC, IOS and Android.
Supports mobile devices.
Time-shifted media content availability.
Supports all the major multimedia formats.
Plex
If you don't want to subscribe or pay for the content, then Plex is for you. Plex has the largest free package of them all.
Plex offers more than 100 free tv channels for your to watch.
Apart from tv channels, Plex gives you the chance to watch more than 2000 movies and tv shows from renowned sources like MGM, Warner Brothers, and more from Plex media server.
Plex has also a paid plan called Plex Pass. You can explore the entire catalog with Plex Pass.
And also you'll be able to save shows, news, movies with the premium pass.
With a very clean and minimal interface, Plex is one of the most go-to places for media consumption.
Key Features:
Contains one of the largest free libraries.
The free plan has more than 100 channels.
Also, it works as a multimedia player for pc.
Slick, minimal, and organized interface.
IP-TV Player
With very little data usage, IP-TV Player can give you high-definition video output. This quality is very rare among the IPTV players for windows pc.
And this player is very versatile in nature. It supports almost all types of file formats including MOV, AVI, MP4, WMV, and more.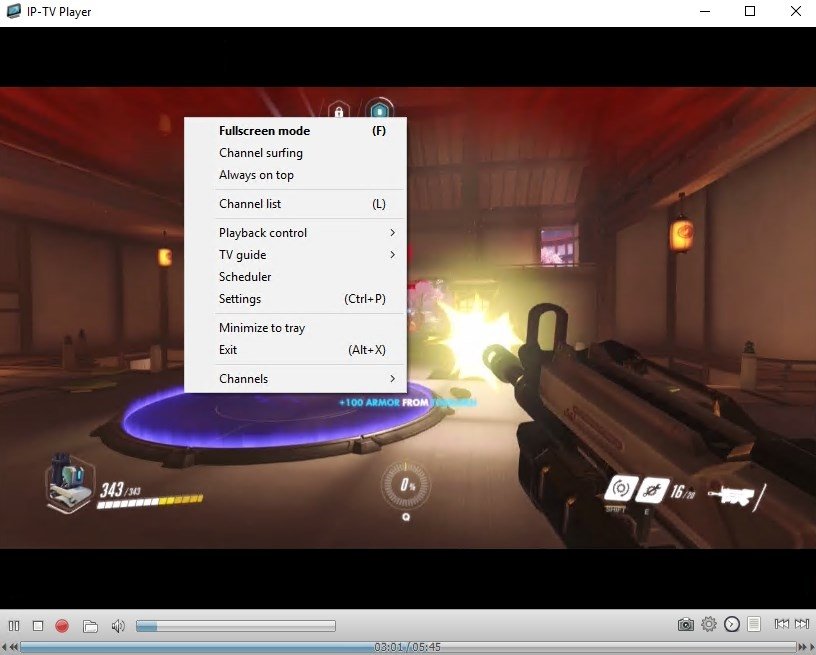 Despite the high quality and performance, this player also offers a very slick and simple interface for the user. So that users can get the most out of this player.
Key Features:
Supports almost all types of video files.
Able to play videos in High Definition.
Users can record and take screenshots while streaming.
This software can be controlled from a smartphone.
In this era of progress and advancement, life is getting a lot easier and smarter. Likewise, watching TV shouldn't need a lot of stuff like antennas, cables, set-top boxes and all.
IPTV has changed the definition of watching TV. Anyone can watch TV Channels directly from their pc whether it is windows pc or macOS.
And to watch IPTV, an IPTV player is very crucial. If the player is not good enough, it can ruin the whole experience or watching IPTV Channels.
We have tried to put on the best IPTV players for windows pc from the available options. We can assure you that, you'll be able to enjoy the full experience of IPTV from any player on our list.
Frequently Asked Questions
Here are some of the answers to frequently asked questions about IPTV players.
Are IPTV Players Illegal?
Ans: Yes, IPTV players are 100 percent legal whether the debate of IPTV illegal or legal. They just work as a multimedia platform to watch content from the IPTV service provider.
Is IPTV Player free?
Ans: Yes and No. Some of the IPTV players are free and some of them are not. But paid IPTV players provide a free version of their software. And sometimes, free players have paid features.
How can I enjoy IPTV on my PC?
Ans: You'll have to subscribe to an IPTV network. You'll also need an IPTV player. By using the IPTV player on your PC, you'll be able to log in to your IPTV network and watch IPTV content on your PC.
What services can I get from IPTV networks?
Ans: IPTV network includes services like Live TV, Live Radio, Live Music, Videos on Demand, Catch-up TV, etc.
Will IPTV be shut down?
Ans: Sometimes law enforcement corporations find illegal stuff in IPTV servers. Like pirated movies, songs, channels, etc. And also some IPTV servers are accused of illegal adult content. In that case, the network can be shut down.
Are IPTV Player Free?
Ans: Yes, Some are Free IPTV players whether the debate of IPTV, illegal or legal. There are few paid apps available in Windows 10 App Store. You can check them out yourself also look for the features that suit you most.
Does IPTV App is capable of Smart Video Streaming?
Ans: Best apps in the market are surely capable of smart streaming, digital tv services. They stream live tv programs and IPTV channels efficiently. Some paid apps follow various streaming protocols.
What kinds of content IPTV App is capable of Streaming?
Ans: Best IPTV apps can play live tv programs in different multimedia file formats. Also, they can play IPTV content like simple tv.
Is there any online IPTV Player?
Ans: There are few out there, but not that stable. There are some IPTV Services Providers working on Online IPTV Player, for example, GIO IPTV / BESTO IPTV / JioIPTV. They are working for their own Online IPTV Player.
Search
Recent Posts
Categories