August 17, 2022
IPTV for dummies is a simple guide for beginners who are brand new to IPTV world. You may have heard about IPTV Streaming, but you may not be aware of the steps involved in streaming IPTV on your Box. If you are reading this blog then you have come to the right place to learn how to stream IPTV in 5 easy steps.
IPTV is a relatively new broadcasting technology. It allows users to record and stream content over the Internet. It's a less expensive alternative to satellite systems and conventional lace connections.
It is not difficult to set up an IPTV system if you have a strong internet connection. The fact is that all it takes are five easy steps that everyone can master. It's so simple that you may begin right after you've finished reading this article. Does that make sense? Then read on to learn how to get started with IPTV streaming in just five easy steps.
Step 1: Purchase an Android TV Set for IPTV Services
The first thing you should do is get an Android TV box for IPTV streams. This will, for all intents and purposes, replace your cable box or satellite dish. The core of your IPTV TV programs setup is an Android box. You can even take help from your internet service providers.
They come with the hardware you'll need to show your material. Also, including the media player and applications you'll need. And also, a built-in Wi-Fi to connect to your router. To put it another way, any TV may become a Smart TV providing live TV streaming services if it's connected to an Android TV box.
Because there are countless Android TV boxes on the market today, it would be unreasonable of me to urge a newcomer to go out and buy one at random. As a result, I'm going to do you a favor and give you my top pick: the Nvidia Shield. It is, certainly, more costly than other internet protocol TV boxes, but for very good reasons.
Why Nvidia Shield for Internet Protocol Television?
Nvidia Shield is capable of producing high-quality images. It also has HDR and 4k capabilities. And also, it is also an excellent gaming device. This TV box's processing capability is swift and excellent. Moreover, allowing you to run more intensive apps at smooth rates.
The Nvidia Shield also has voice command capabilities and Chromecast compatibility. Different variants also include a gaming controller and a 500GB internal storage disk.
Another excellent IPTV internet TV box option is the Formuler Z8, which, like the Nvidia Shield. It is a highly appreciated gadget. The Z8 is unique in that it supports native IPTV streaming. This eliminates the need for third-party apps (so you can skip step 2).
Step 2: Get an IPTV App
You'll need to find IPTV apps to install on a standard Android or satellite TV Box. These applications are the key media players that allow you to access your IPTV channels. And, they can be readily installed from the Google Play store, which is already downloaded on your TV box.
You may now discover a plethora of IPTV applications on the Internet. Several of them are of excellent quality and are available for no cost. In general, all you need to do is handpick an IPTV app that supports M3U and EPG formats. It's because most IPTV playlists will fully load throughout this procedure.
TiviMate IPTV Player is an IPTV software that I suggest. This program is free, simple to set up and use. It offers several customization options. This lets you arrange your channels any way you like. It also features a great user interface that looks like a digital TV guide.
Other than that read our in-depth reviews and setup guide of the best IPTV Players Apps here-
TiviMate IPTV Player: How To Install and Use TiviMate for Firestick/Android (2022)
Top 10 Best IPTV Apps for Amazon Firestick 2022
Duplex IPTV: Setup IPTV in Duplex IPTV app and IPTV Service Provider Review
How to Setup IPTV Smarters and IPTV Smarters Pro for Android, iOS, and Firestick?
How To Install Ckaytv on Firestick In 2022
How to Install Lazy IPTV for PC 2022
Step 3: Purchase an IPTV Subscription for TV Channels from a Provider
You'll need a subscription in order to receive TV programming on your Android TV box and IPTV app. That's where an IPTV provider steps in.
When selecting a trendy IPTV Subscription Provider, you should keep a few things in mind.
To begin, attempt to get a subscription from a supplier based in your nation or region. This will aid you in locating your conduits, providing you with the connections. Also, reducing time-lapse, and provides you with the most stylish performance ever.
Second, you must examine the device's compatibility. Because only a few IPTV providers work on device compatibility. Not every IPTV subscription will operate with your cable TV Box.
As a result, you must ensure that the subscription you purchase will function on both your Box and the IPTV App. So, the elegant choice is to sign up for a free trial with them, which costs 00$, and test the subscription. Gio IPTV has 24 hour trial option. Click here to get your free trial or use the on-website chat to ask for the trial link.
Finally, decide what kind of stuff you want to see. For example, a subscription from providers whose IPTV is the best for filmland and series. if you're a movie and series fan.
Unless you want a standard deal that includes both Filmland and series, you'll have to pay for a membership. And, from a company that specializes in it. If you want a particular subscription, you must get it from a company that offers Sports packages. Whatever the case may be, you'll have to dig for it.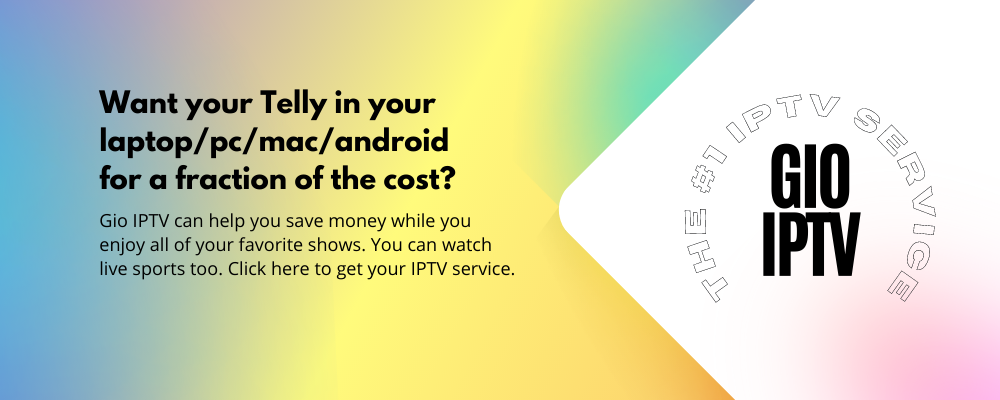 Step 4: In the IPTV App Provided by the IPTV Subscription Provider, Set Up the M3U Link
You would believe that it is the most delicate duty to do. But it's far too simple. If you subscribe to watch IPTV through an IPTV Subscription Provider, you will be given a link called M3U Link. The link will allow you to stream your channels using the requested subscription.
To connect the M3U connection to your IPTV app, follow these steps:
On your Android TV Box, open the TiviMate app
You could very well see the "Add Playlist" button. That should be clicked.
You'll see a bar where you may input the URL after selecting Add Playlist.
Click "Ensuing" or type the M3U Link provided by the IPTV Subscription Provider.
Now, on the right-hand side of the Add Playlist page, click the next button. Or, press the "Done" button.
TiviMate will start reusing and will wait for the procedure to finish.
After you've finished the procedure, click "Done" once more. Following that, you may navigate straight to the Main Menu. On your screen, a list of Box channels and categories will appear. After that, you'll be able to browse through any channels or categories you wish.
To add a Box Attendant, go to the left-hand menu and select "Settings" or "Box Attendant." Include the IPTV Subscription Provider's EPG URL. Or else, the IPTV Subscription Provider's EPG URL.
Step 5: Get a Virtual Private Network (VPN) (Optional) for IPTV Service
Although a VPN (Virtual Private Network) isn't required for IPTV streaming. There are various reasons to use a VPN.
To begin, a VPN is the most effective approach to protect your privacy while staying on the internet. The fundamental function of a VPN is to disguise your true IP address from your internet service provider. As a result, masking your true IP address is a 100 percent safe way to access the internet.
VPN will protect you from birth limitations and mask your identity on the internet. As a result, you'll be able to access video content from any nation that isn't available in your own.
We suggest Express VPN since it is extremely self-protective.
Conclusion
We hope our 5 simple steps on how to get started with IPTV streaming content have inspired you. Dive into this fascinating new world of watching TV online. Setting up an Android TV box and watching live TV channels is a lot easier and less expensive. Most people don't realize it, so we hope you're now inspired to go out and buy your own and start your new TV adventure.
Search
Recent Posts
Categories