August 11, 2022
The Firestick is a device that most people in the world own. However, if you don't know how to install IPTV Smarters on it, then you aren't using its full potential yet. That is why today I am going to show you step-by-step how to download & install IPTV Smarters on your Firestick.
If you have a big family and love amazon or Google ecosystem, then you probably love Firestick. Some even say that Firestick is a Roku Converter, all depends on the individual preference but you can't go wrong with firestick as it resolves most of Amazon/Roku streaming issues. It's a great system that connects multiple systems as well as fulfill your streaming requirements.
Since IPTV Smarters is not available on the Amazon app store, you have to sideload it using some third-party apps. To protect your identity and IP address, we strictly advised that you use a VPN on your FireStick device.
Once logged in, you can start streaming your favorite TV channels.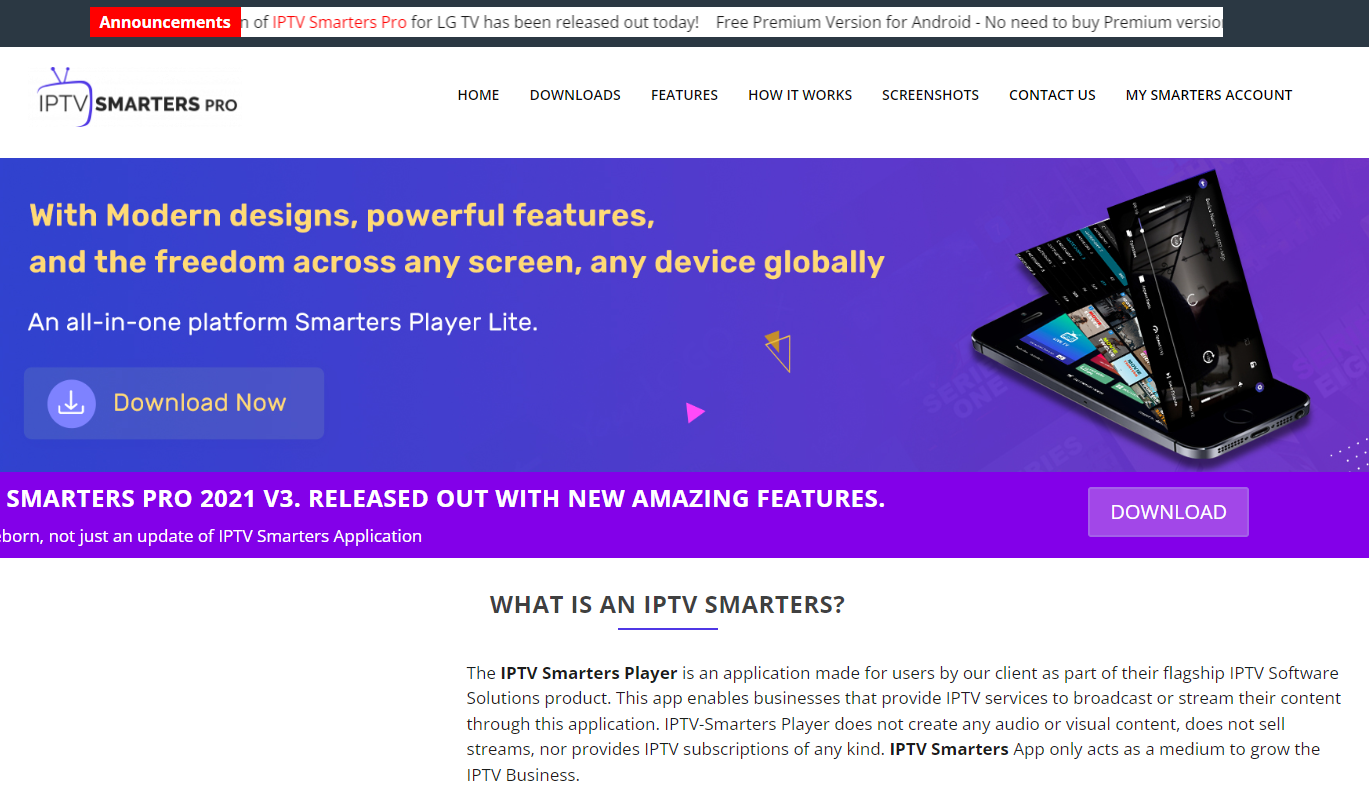 Through IPTV Smarters pro firestick, you can search and stream the channels by typing just one or two characters of the name of the channel. It will give you the list of all available channels and their details, including their streaming quality, name, and logo.
The only drawback of IPTV Smarters is that it does not have any help section to explore its features. You have to search for it on Google or YouTube to find out more about it.
Install IPTV Smarters on FireStick-
The bad news is, the app isn't available officially. Hence you need to sideload it. But before doing so, use a good VPN service. It is highly recommended.
Now, the installation part. Below are some methods of installing this app.
At first, you need to install the Downloader app to be able to install IPTV Smarters. This will help you to side-load IPTV Smarter on your Firestick.
Now you need to look for the Find > Search option on the Firestick home screen.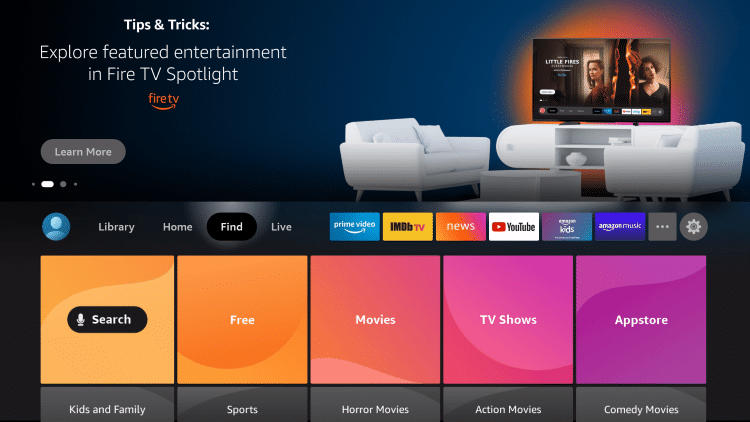 Type the name of this app (Downloader) and choose from the dropdown. Click on download and it will start downloading automatically. After it finishes downloading, you need to install the app.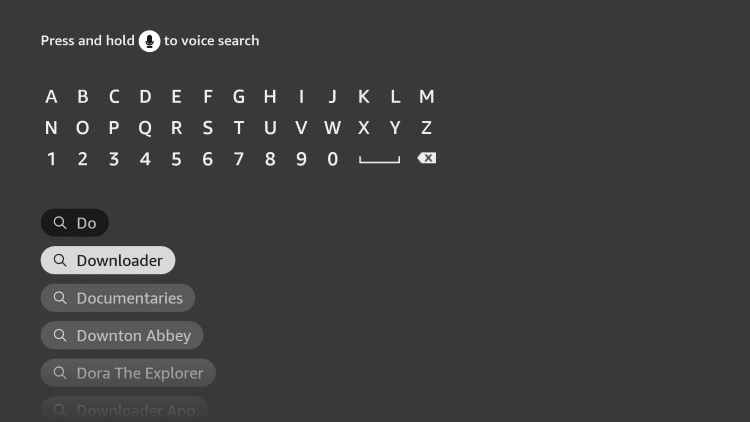 Now get back again to the firestick the home screen and click settings from the menu bar. From settings choose My Fire TV.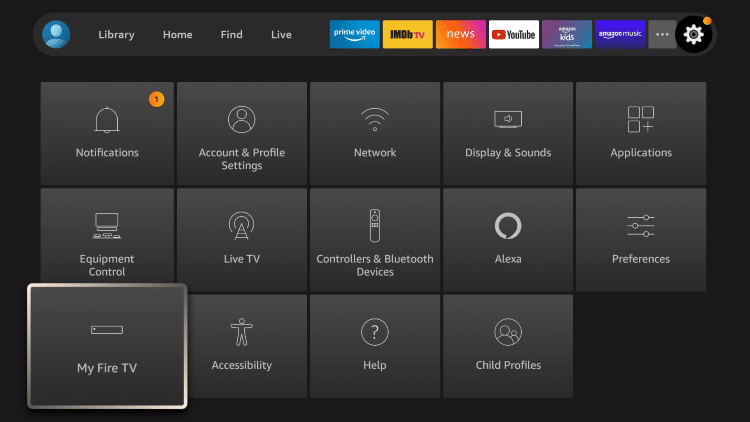 A dropdown will come and from there select the developer option.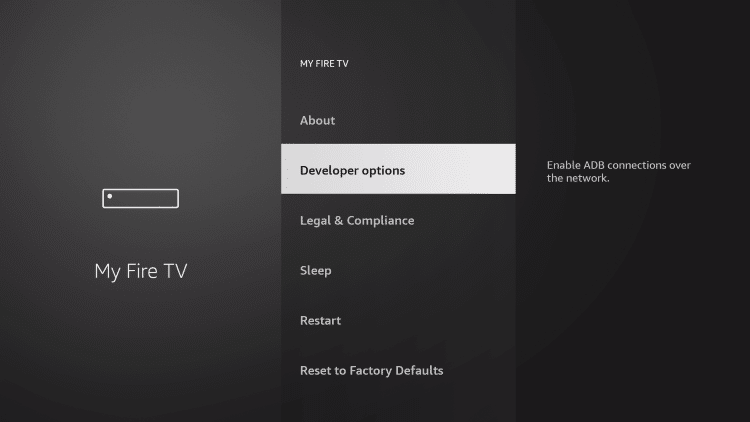 Click on to install from unknown apps.
You need to change the downloader status and make it on.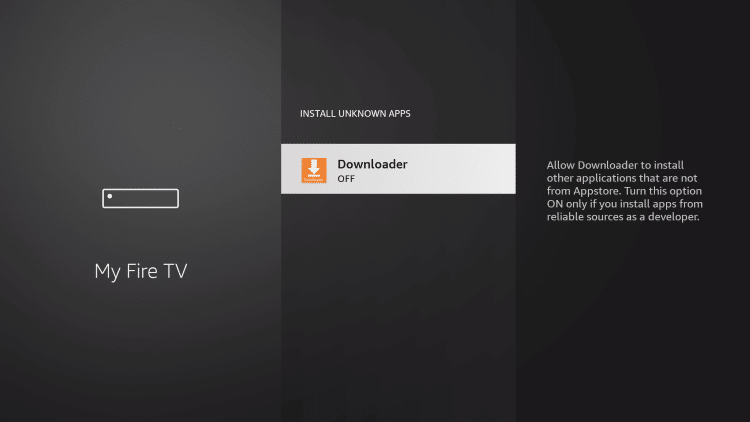 Firestick configuration is done.
Now open the downloader app. You will discover a set of prompts while running the app for the first time. You just need to dismiss them until the URL textbox screen appears.
After it finishes the download, the apk file will automatically install IPTV Smarters.
Wait for the installation to finish and after that, you are all set.
Important Tips to Run IPTV Smarters on Firestick:
Now that you know how to install IPTV Smarters and probably enjoying a number of rich contents but your activities are visible to the government and your ISP. To bypass this, it is strongly recommended to use a premium VPN every time you start IPTV Smarters.
These days there are a number of good VPN services available with a number of functions and some of them come at a cheap price. You will find some of the good VPN services in the list below.
Strong VPN (highly recommended)
Express VPN
Surfshark
Nord VPN
All the above services are good and come with exciting packages. Always remember to connect to a VPN before playing IPTV Smarter. Otherwise, your privacy will be at risk.
How to Use IPTV Smarters on Firestick?
IPTV Smarters doesn't provide you with channels or programs to watch or stream. It's just an application. You need to buy a subscription from your IPTV service provider in order to watch or stream. For which we recommend Gio IPTV services.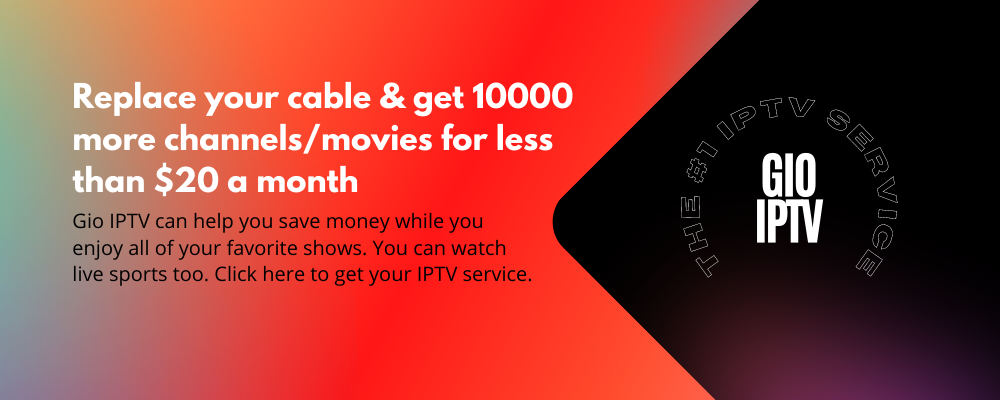 Following are the steps you should follow.
After you open IPTV Smarters for the first time, you will see the terms of the agreement and you will need to accept that.
Now from the top right corner of the screen, click on Add New user.
Two options will appear to sign in. One is to load the playlist from a file or URL and another one is to log in with API codes.
Select the first one which is load playlist from file or URL and allow the permission.
Now add the details on the next appeared window and click on Add User.
How to Record With IPTV Smarters app
The good thing about this app is that it supports lots of video formats. It can play the files which are not supported by other apps. For example, if you have a video file with an extension like .webm or .mkv, MX Player will play it.
There are some features missing in IPTV Smarters but overall it's a great app for streaming videos on FireStick. To record with IPTV Smarters you need to follow these steps.
Note that recording IPTV content will likely require a USB Drive for storage purposes. You should make sure that it's properly formatted as FAT32.
First, connect your VPN and then start running IPTV Smarters. Then go to the settings menu of IPTV Smarters and click on player selection.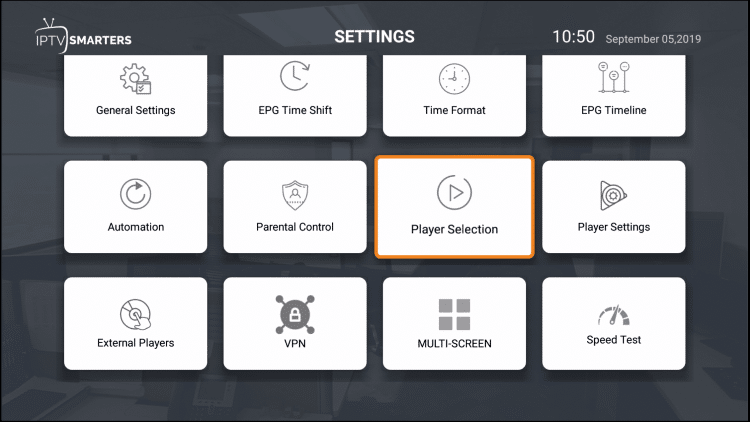 Now click on Add player and from the drop-down select MX player.
Save this setting and then click back to IPTV Smarters stream. You can record your content now.
Features of IPTV Smarters:
IPTV Smarters provide you the access to stream loads of content on your FireStick device. But keep in mind it doesn't host any channel. You can access channels from the other IPTV service providers by adding your credentials and logging in.
You can also use IPTV apps as well. All of the content streamed through IPTV Smarters is of high quality. You can stream your favorite movies and shows in HD quality now.
You can even record your favorite content while using IPTV Smarters. For this, install an external player. There is a subtitle option available as well to enjoy your favorite content of any language. You can change the content language according to your choice.
Final Words
IPTV Smarters Pro is a great app to stream media as you can use simple URLs to stream videos. You can watch videos for free and subscribe to get the premium package if you have an Android device.
You can watch IPTV Smarters Pro on a TV box, tablet, or any other device. There are many similar apps like IPTV Smarters over the internet. All of them are good and provide added features as well.
FAQs
What is IPTV Smarters Pro?
IPTV Smarters Pro is a popular IPTV player that pairs with any IPTV service for an improved streaming experience.
IPTV Smarters Pro is a paid service but also has free option. If you have a smart TV or any device that's android based, you can use IPTV Smarters Pro.
It has a polished interface and all the features you need to improve your entertainment streaming activities, such as a guide feature that provides detailed program descriptions and upcoming live event listings, and a schedule playback option.
Besides being compatible with various kinds of media devices or through third party applications.
Why a downloader app is necessary to install IPTV Smarters?
IPTV smarters on firestick isn't available in Appstore and play store. Hence you will require a third-party downloader app. Through this downloader app, you can run IPTV smarters on firestick.
Is VPN a necessity to run IPTV Services? or To use iptv smarters on firestick?
Yes, and it is highly recommended that you use a VPN every time you connect with IPTV services. Many IPTV services provide integrated VPN but those are not perfect VPN solutions for IPTV services. Express VPN, Nord VPN, Pure VPN, Windscribe, Surfshark are some good VPN solutions for your IPTV services.
Where to find IPTV Smarters app?
IPTV smarters app isn't available right now. So to install IPTV smarters pro, you need to install some third-party downloader. You will also find IPTV smarters apk, but only a fake version. Don't install IPTV smarters apk. Instead, use a downloader from the google play store or apple app store to install IPTV smarters pro app. That is the only way to access IPTV smarters.
Can you Install IPTV Smarters pro on other devices?
You can run and access IPTV smarters from ios mobiles, android phones, ios devices, fire tv stick, smart android tv, fire tv cube, android devices, android tv boxes, fire tv, and many more. You just need to install IPTV smarters pro from third-party apps. Because IPTV smarters app is currently not available in google play store and apple app store.
Can I run multiple IPTV subscriptions in IPTV Smarters Pro?
You can run multiple IPTV subscriptions on android and ios mobiles, android tv box, smart IPTV, android phones, and ios device. But it depends on your internet service provider, IPTV subscription plan, IPTV provider, and IPTV management service. Discuss with them before running multiple IPTV subscriptions.
Is IPTV Smarters Application Legal?
Yes, this is an app and it's 100% legal to install and use. IPTV Smarters has both free and paid options.
Is IPTV Smarters Safe?
Yes, IPTV Smarters pro app can be downloaded and used safely. The app isn't available in the Amazon App Store or the Google Play store to ensure that our users have a safe experience while using it. Please make sure you take advantage of a VPN while downloading the app to ensure your safety from any potential malicious content.
What Devices can IPTV Smarters be Installed on?
It's compatible with any device that runs on android system. This includes the Amazon Firestick, Fire TV, and other android devices.
Is IPTV Smarter Free to Use?
Yes, IPTV Smarters is free to use, but an ad-free version is also available – with some advanced features including automation capabilities. If you're not interested in upgrading, there's nothing wrong with that either, as you can still use it without paying and it will never ask for money.
Is Jailbreak Necessary to Install IPTV Smarters on Firestick?
Jailbreaking your Firestick is highly recommended in case you wish to install IPTV Smarters on your Firestick. Yes, because IPTV Smarters isn't available on the official Amazon app store it is necessary to install the app using sideloading methods. This means that your Fire TV device must be jailbroken in order to install third-party apps.
Can I Download IPTV Smarters on My Android or iOS Device?
Yes, this application is available for both Android and iOS devices. To get it just open the Play Store or App Store and then search for "IPTV Smarters." Once you've found our app tap on the Install button and then wait for the download to complete.
Search
Recent Posts
Categories